Page 1 of 13
Anti Tobacco Campaign  at a glance
at Daffodil International University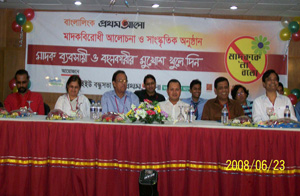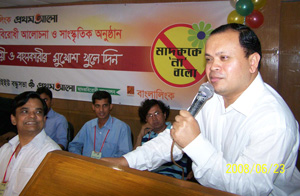 Daffodil International University is dead against tobacco from its  inception and every year this university organizes lots of anti tobacco campaign program. On June 23, 2008 during celebrating World Tobacco Free Day, Mr. Md. Sabur Khan, Chairman Board of Trustees declared Daffodil International University as No Smoking University where country's renowned media personalities like Novelist-Anisul Haque, Magician- Jewel Aiche, Singer – Mahamuduzzaman Babu, were present. Till today this declaration has been strictly maintained.
Daffodil International University in collaboration with Association for Prevention of Drug Abuse (MANAS), United Nations Information Center (UNIC), Management and Resource Development Initiative (MRDI), The Daily Prothom Alo and many others organization continues Anti Tobacco Campaign through out the world.
In 2011 Daffodil International University observed World Tobacco Free Day with elaborate program. The program included rally, seminar,   "Anti Tobacco Poster Competition, Anti Tobacco mass signature collection in the longest Banner first ever of its kind in Bangladesh which was inaugurated by Prof. Dr. Golam Rahman in front of National Press Club, National Museum university premises. Daffodil International University also organized seminar on "Tobacco Control Act and Bangladesh on May 30, 2011 in observance of World Tobacco Free Day where Chief Whip of the National Parliament Md. Abdus Shahid was present as the chief guest.
A Short Film show on - "Taste of Smoke" was arranged at the auditorium to create among the students. The students of Daffodil International University also brought out little magazine time to time as apart of their Anti tobacco Campaign. 
An anti-tobacco campaign was jointly organized by Daffodil International University, Bangladesh Open Source Network (BdOSN) and  World Health Organization (WHO), Bangladesh Country Office on November 18, 2008 at Daffodil International University auditorium. The theme of the program of that year was 'No Tobacco Day - Tobacco Free Youth'.
DIU Organized Inter University Debate Competition to mark "World Anti Drug Day-2011"
Very recently on January 19, 2012 Daffodil International University organized a seminar on " Young Generation and Drug Abuse in Bangladesh where Home Minister Advocate Sahara Khatun were present as the chief guest.