DIU holds Career Talk Session with JCI for the students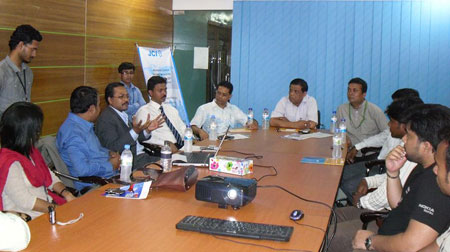 Daffodil International University organized a career talk session for the students on May 08, 2011 at university conference room. Leaders of Junior Chambers International (JCI), Bangladesh hold the session for the professional & career awareness for the students. Professor M. Shahjahan Mina, Adviser to the Chairman, Board of Trustees, Daffodil International University was present as the Chief Guest while Prof. Dr. Mizanur Rahman, Dean, Faculty of Business and Economics (FBE) was present as the Special Guest. Mr. Shahid Uddin Akbar, National President, JCI was the keynote speaker of the session. The session was addressed by Mr. Mahbub Parvez, Assistant Professor, FBE, Mr. Masud Ibne Rahman, Head, B. Com, Mr. Syed Mizanur Rahman, Assistant Professor, FBE, Mr. Shine Bhaskaran, International Vice President, JCI, Mr. Taslimur Rahman, National Secretary General, JCI, Bangladesh, Ms. Ameena Hasan Ana, Deputy Director, JCI Dhaka Central.
The Junior Chambers International (JCI) which is a nonprofit organization of 200,000 young people ages 18 to 40 in 5,000 communities and more than 100 countries around the world is also working here in Bangladesh. The main objective of JCI is to provide development opportunities that empower young people to create positive change.
Members of the Business and Education Club, All Stars Daffodil, DIU students took part in the session where respected faculty members also took part in the discussion.
Through this discussion The JCI members and DIU Authority decided to organize several events in the month of June.