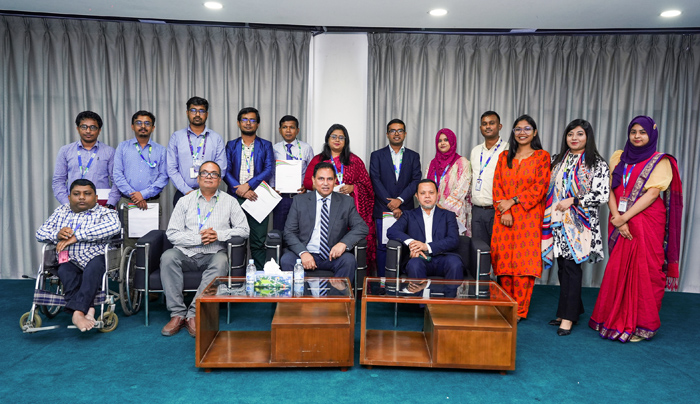 The re-launching ceremony of the The Duke of Edinburgh's International Award was held on Thursday at Daffodil International University (DIU) on 7th September 2023.
Mr. Rizwan Bin Farouq, Honorary Secretary of the Board of Trustees, delivered an insightful and inspiring address, emphasizing the important role of the award in shaping the future leaders of Bangladesh. He has mentioned using the beautiful campus for basecamp and inspiring other institutions to come to Daffodil International University for the adventurous journey as a requirement of the award.
Dr. Md Sabur Khan, Honorable Chairman, Board of Trustees at Daffodil International University, delivered the concluding speech, expressing gratitude for the award leaders.
The ceremony culminated with a momentous Memorandum of Understanding signing, solidifying the commitment of both parties: Daffodil International University and the Duke of Edinburgh's International Award Foundation Bangladesh for relaunching this award to furthering youth development initiatives.
Addressing the audience, Professor Dr. Syed Mizanur Rahman, Director of Students' Affairs, extended a warm welcome in his role as the Award Coordinator of DIU. His speech emphasized the importance of the Duke of Edinburgh's Award in nurturing skills and character in young individuals.
Ms. Jannatul Bakia Sweety, an alumna from the Department of English at DIU, who shared her inspiring journey as a Gold Awardee. Her success story resonated deeply with the audience, demonstrating the potential for growth and development that the award facilitates. Ms. Afsana Jerin Shayery, an accomplished alumna and Lecturer of the Department of Computer Science & Engineering at DIU, enlightened the attendees on the transition from being an awardee to an award leader. Her insightful discourse shed light on the important role played by leaders in guiding and inspiring future generations of achievers.
The ceremony then transitioned into a moment of recognition, as Honorable Guests took the stage to present certificates to the Award Leaders, acknowledging their dedication to the voluntary role to develop young students.
Daffodil International University started the journey with the Duke of Edinburgh's International Award in 2013. A total of 54 students have achieved the Bronze Awards, 02 have achieved the Silver Awards, and 1 student has received the prestigious Gold Award till now. This year, with the target of 500 students enrollment, DIU is moving forward with renewed determination and commitment to empower youth through the Duke of Edinburgh's International Award to ensure Outcome Based Education (OBE).