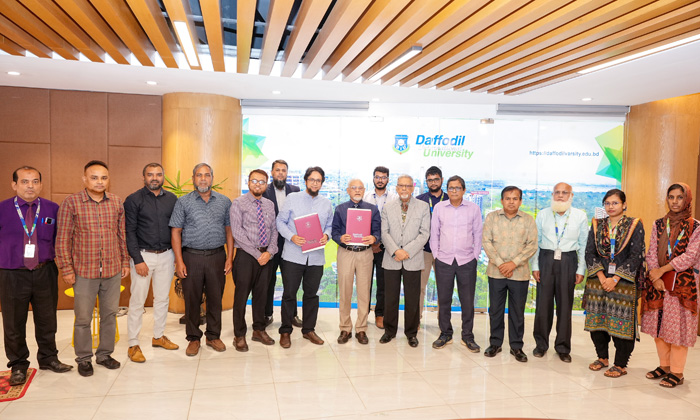 Daffodil International University signed a Memorandum of Understanding (MoU) today on July 08, 2023 with Pacific Solar Renewable Energy Ltd. for installation and Operation of 3 MW solar energy on the rooftop of the buildings of Daffodil International University under implementation of the "DIU Rooftop Solar Project". Dr. Nadir Bin Ali, Registrar, Daffodil International University and Mr. Ibrahim Lodi, Managing Director of Pacific Solar Renewable Energy Ltd. signed the MoU on behalf of their respective organizations. Professor Dr. M Lutfar Rahman, Vice Chancellor, Professor Dr. S M Mahabub Ul Haque Mazumder, Pro Vice Chancellor, Professor Dr. Mostafa Kamal, Dean, Academic Affairs, Professor Dr. M Shamsul Alam, Dean, Faculty of Engineering, Major Arman Ali Bhuyan (Rtd.), Director, Planning and Development, Mr. Najim Uddin Sarker, Joint Director, Planning and Development, Prof. Dr. Md. Shahid Ullah, Head, Department of EEE  and Mr. Irfanul Haque, Director (Technical), Pacific Solar Renewable Energy Ltd. were present at the MoU signing ceremony.
The goal of the MoU is to successfully implement the DIU Rooftop Solar Project inside the DIU campus. The specific objectives of the cooperation are:
To produce clean and sustainable energy for contributing in the country's SDG Goal, for full filling the country's climate prosperity plan, Contribute to the 8th Five-year national plan. To reduce carbon emissions and mitigate the Climate Change Impact, To attract foreign/local investors for investing in the solar rooftop project in OpEx model and to engage the EPC for implementing the project successfully under Net Metering Guideline 2018 of SREDA.
This MoU and all activities will be reviewed jointly by both parties from time to time.
This MoU shall remain valied from 01 July 2023 to 30 June 2048 or until the time that either party jointly decides to terminate the agreement. This MoU shall not be amended or altered except by a Supplementary MoU expressly referring to this MoU and signed by the authorized persons of both parties. Within four months after signing this MoU, Pacific Solar/ its consortium will sign the Power purchase Agreement according to the Net –Metering guideline of the SREDA.