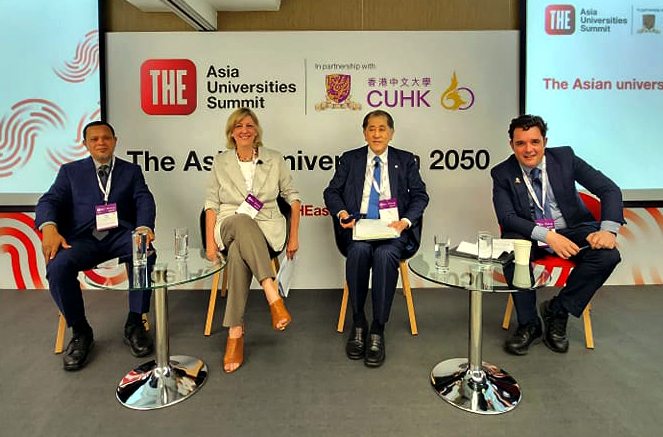 Focusing on the fundamental question: IS THERE a distinctly 'Asian' university in such an economically, culturally, and socially diverse region and what will it mean to be an Asian university in 2050?: THE Asia Universities Summit WAS just held in HonG Kong. 
Noted Education leader, Dr. Md. Sabur Khan, Chairman, Board of Trustees at the Daffodil International University, was invited as a distinguished speaker at THE Asia Universities Summit held at The Chinese University of Hong Kong (CUHK) from June 21-23, 2023. The summit, organized by Times Higher Education (THE), focused on the theme 'The Asian university in 2050' and explored the future landscape of higher education in the region.
Dr. Khan's insightful presentation, titled 'The Transformative Role of Asian Universities,' shed light on the key drivers shaping higher education across Asia. He emphasized the importance of well-established autonomous systems in countries like Singapore, Hong Kong, Japan, and Korea, which have achieved global recognition for their emphasis on research and innovation. Dr. Khan also highlighted the progress made by emerging economies in Central Asia, South Asia's collaborations with international universities, and the rapid growth of university systems in the Middle East and North Africa.
As the representative from Bangladesh this time Dr. Sabur Khan's participation at the summit underscored his expertise, knowledge, and leadership in the education sector. His engaging presentation garnered high praise from attendees, including university leaders, researchers, and policymakers, who appreciated his vision and commitment to the transformative role of universities.
The summit provided a dynamic platform for networking and collaboration among more than 300 delegates, representing institutions and companies with a keen interest in higher education across Asia. Dr. Khan had the opportunity to foster meaningful connections with influential partners, potential collaborators, and policymakers, further strengthening global relationships and advancing the goals of higher education in the region.
Dr. Md. Sabur Khan's participation in THE Asia Universities Summit highlights his dedication to promoting excellence in education and his significant contributions to the field. His presence at such prestigious events reinforces Daffodil International University's commitment to fostering a transformative learning environment and shaping the future of higher education.