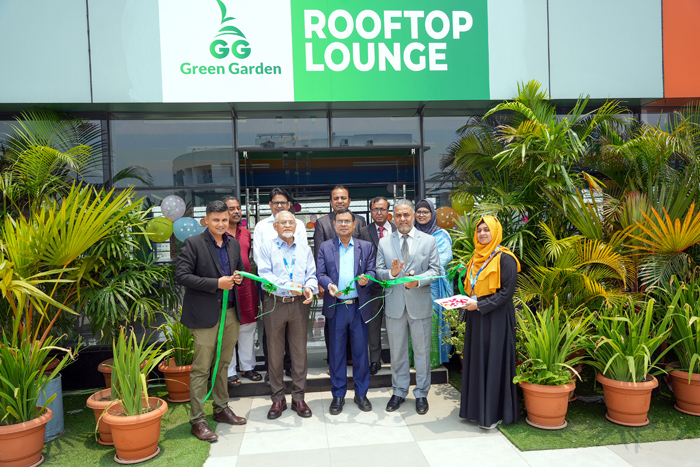 Green Garden, an exquisite and multi-faceted establishment, is set to redefine the hospitality landscape in the capital Dhaka, Bangladesh. Opening its doors on 1st June 2023, Green Garden combines the elements of a fine dining restaurant, a spacious convention center, and a vibrant rooftop lounge to offer a unique and unforgettable experience. Mohammad Nuruzzaman, Group CEO of Daffodil Family and Md. Mahbubor Rahman, Chairman of BSCIC graced the soft opening program
"We are thrilled to introduce Green Garden to the residents and visitors of Dhaka," said Mohammad Nuruzzaman, Group CEO of Daffodil Family while opening the Green Garden. "We aim to create a luxury and elegance where guests can savour exceptional cuisine, host memorable events, and experience the city's vibrant pulse. We invite everyone to join us and embark on this remarkable journey." he added.
Situated at Daffodil Plaza, 4/2, Sobhanbag, Mirpur Road, Dhanmondi in the capital, Green Garden welcomes guests to a world of elegance and sophistication. The fine dining restaurant have an extensive menu curated by expert chefs, offering a fusion of flavors and culinary delights. From intimate dinners to social gatherings, the restaurant provides a refined setting for memorable dining experiences.
The convention center at Green Garden is a versatile venue that caters to various events. Whether it's a corporate conference, a grand wedding, or a social gathering, the convention center offers state-of-the-art facilities and flexible spaces to accommodate different requirements. With careful attention to detail and impeccable service, Green Garden ensures seamless and successful events.
The rooftop lounge at Green Garden provides a vibrant and energetic atmosphere with breathtaking views of the city skyline. Guests can unwind and socialize while enjoying refreshing beverages and delectable snacks. The rooftop lounge is perfect for casual get-togethers, celebrations, or simply indulging in the city's enchanting nightlife.
Green Garden encourages individuals interested in holding events to reach out to the restaurant at 01811-458840 or via email at This email address is being protected from spambots. You need JavaScript enabled to view it. to confirm their reservation and secure their spot.