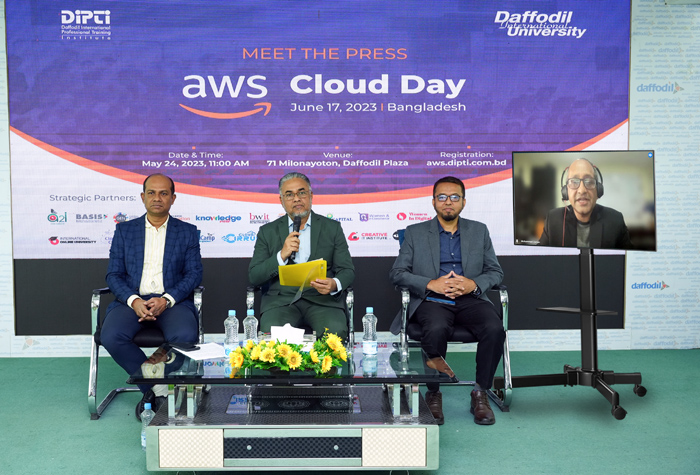 AWS Cloud Day Bangladesh 2023 has been going to be organized on June 17, 2023 for the first time in Bangladesh. This full-day event aims to provide participants with hands-on workshops, on building cloud- native applications and machine learning as well as insights on recipe for  creating the next generation of unicorn startups, and opportunities to learn about AWS career programs through various sessions conducted by internationally and locally recognized professionals/trainers from Amazon Web Services (AWS). The daylong event also have the opportunity to learn about career programs offered by AWS and network with subject matter experts, national leaders, teachers and cloud enthusiasts from all over Bangladesh.

It may be mentioned here that this is for the first time such an event is being organized in Bangladesh, jointly hosted by Daffodil International University (DIU) and Daffodil International Professional Training Institute (DIPTI) in collaboration with Amazon Web Services (AWS). The event will feature a keynote address by a prominent figure in the cloud computing industry, along with a range of breakout sessions and networking opportunities. AWS Cloud Day Bangladesh 2023 is highly anticipated, as it aims to bring together entrepreneurs, students, teachers, educators, and practitioners.
All these were informed at the "Meet the Press held today on May 24, 2023 at the 71 Milonayoton of Daffodil Plazar at Dhanmondi in the Capital. The "Meet the Press" program were addressed by Joint-Conveners of the event Mr. Mohammad Nuruzzaman, Group CEO of Daffodil Family and Mohammad Mahdee-uz Zaman, Leader, Solutions Architecture, Startups, Amazon Web Services (AWS) as well as Co-Conveners of the event, Dr. Nadir Bin Ali, Registrar, Daffodil International University, and Mr. Rathindra Nath Das, Executive Director, DIPTI, will provide comprehensive details about the event to journalists and media representatives.
The AWS Cloud Day Bangladesh 2023 is a highly anticipated event that will bring together entrepreneurs, students, teachers, educators, and practitioners. The event will feature three parallel tracks:
Technical Track for hands on workshops on building cloud-native applications and monetizing them using data driven machine learning.
Business Track for a hands-on workshop on building the next generation of billion dollar unicorns and the AWS partner program to extend your customer reach.
Career Track for educators will learn about AWS student programs, and specific incentives for institutions.
It was informed at the Meet the Press that anyone from Bangladesh can join the program through registration. The registration deadline is on June 10, 2023. Registration Fee is Tk. 500/=. Registration Link : https://aws.dipti.com.bd
The participants will get the opportunity to Interact with AWS representatives, Unleashing the Power of Cloud Innovation, Discover Next-Gen Cloud Solutions, Hands-on Experience, Network with Industry Experts, Learn from Real-World Use Cases, Embrace the Cloud Revolution and finally achieving AWS Certifications.
For more details, please visit: https://aws.dipti.com.bd