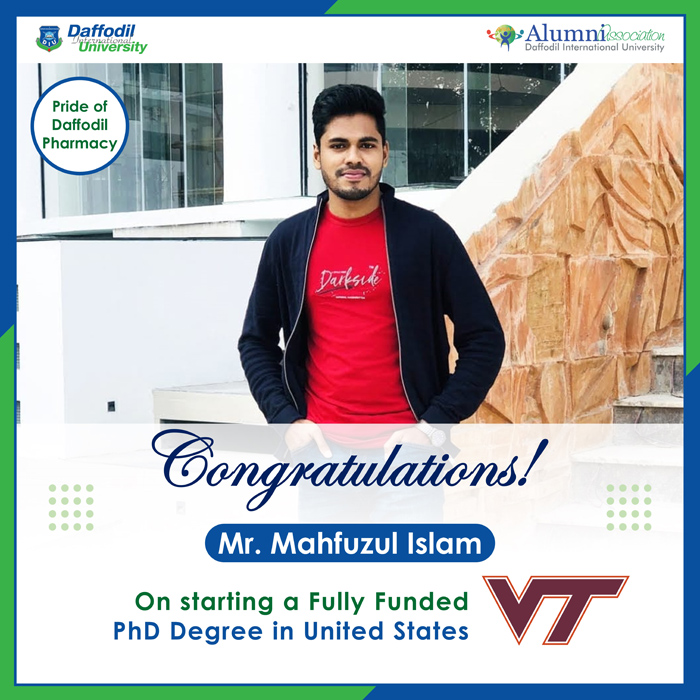 Daffodil International University (DIU) graduate, Mr. ​Mahfuzul Islam, has recently been awarded a fully-funded scholarship for Biomedical and Veterinary Sciences at Virginia Tech University. This remarkable achievement comes on the heels of his graduation from DIU with a degree in Pharmacy in 2022.
During​ ​​his time at DIU, they were involved in numerous extracurricular activities, including being nominated as a Model Delegate on behalf of Bangladesh for the United Nations Human Rights World Youth Forum held in Egypt in 2021. The following year, he was awarded Nasser's Fellowship in Egypt, which recognized him as a promising leader. These activities outside of their studies demonstrate his commitment to personal and professional growth.
With Mr. ​Mahfuzul outstanding academic record and dedication to his field, he ​has proven themselves as an exceptional candidate for this fully-funded scholarship in Biomedical and Veterinary Sciences at Virginia Tech University. ​His career story demonstrates their passion for learning and their desire to make a difference in the world, and we have no doubt that Mr. ​Mahfuzul will continue to achieve great things. We congratulate Mr. ​Mahfuzul Islam​on this remarkable achievement and wish them all the best in their future endeavors.