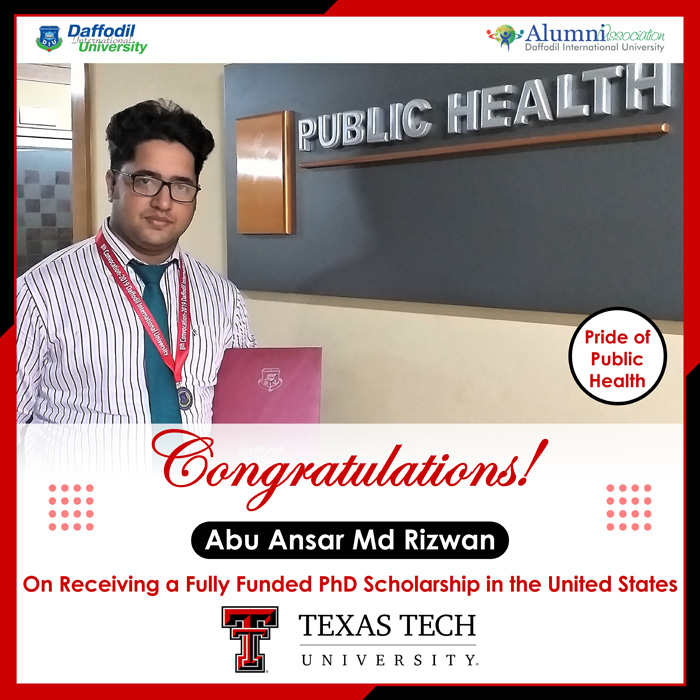 Mr. Abu Ansar Md Rizwan, a graduate of Daffodil International University (DIU) with a Master's in Public Health (MPH) from the Department of Public Health, has been awarded a fully-funded scholarship for a Ph.D. in Nutritional Sciences at Texas Tech University in the United States. Mr. Rizwan graduated in the Spring of 2018 with an impressive academic record. In recognition of his academic achievements, he was awarded the Chairman's Gold Medal at the 8th Convocation of Daffodil International University held on March 13, 2019.
Mr. Rizwan has more than 8 years of working experience in various fields such as research, program management, food systems, emergency nutrition, community nutrition, maternal and child nutrition, public health, food safety, nutrient analysis, food fortification, nutrition-sensitive agriculture & aquaculture. He is committed to using diverse and state-of-the-art methodologies to understand existing public health and nutrition systems, identify gaps between evidence and interventions, and improve complex public health and nutrition systems in developing countries.
Mr. Rizwan's Ph.D. program at Texas Tech University is fully funded, thanks to his outstanding academic record and his success in winning two prestigious scholarships - the College of Human Sciences (COHS) Scholarship and the Graduate School Scholarship.
With his extensive experience and passion for public health and nutrition, Abu Ansar Md Rizwan is poised to make a significant contribution to the field of Nutritional Sciences, particularly in developing countries where his work can have a profound impact on improving public health outcomes.