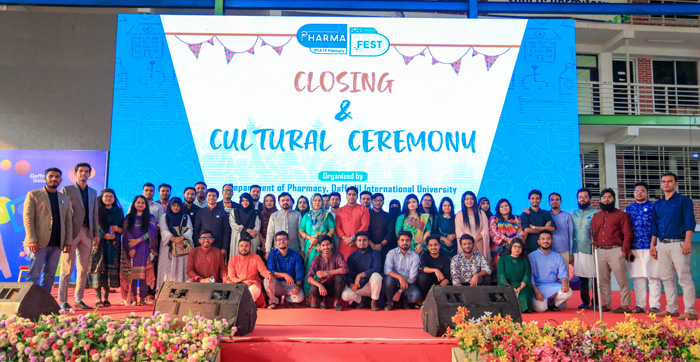 Dhaka (19 February), Bangladesh – The three day 'Annual Pharma Fest 2023' organized by Department of Pharmacy of Daffodil International University (DIU) concluded today on February 19, 2023. The closing ceremony of the Annual Pharma Fest 2023 was held at Shawdhinota Sommelon Kendra of the university at Birulia Savar. The three-day event brought together students, academics, and professionals from the pharmaceutical industry to share their knowledge, expertise, and research. The festival aimed to provide a platform for students and professionals to exchange ideas and insights about the latest trends, challenges, and opportunities in the pharmaceutical industry.
The event featured a variety of activities, including Pharma Olympiad, scientific seminar, keynote speeches, workshops, poster presentations, sports, rally, cultural performance etc. More than 500 participants attended the event, including students, faculty members, and industry professionals.
During the opening ceremony, the Vice-Chancellor of DIU, Professor Dr. M. Lutfar Rahman, highlighted the importance of the pharmaceutical industry and the role of DIU in preparing students to meet the demands of the industry. Mr. Md. Rajib Ul Hasan, Head, Commercial Execution, Novartis Bangladesh Ltd. was present at the opening ceremony as the keynote speaker and he emphasized the need for research in the field of pharmacy to address the emerging challenges in the healthcare sector.
The closing ceremony was held on the final day of the event, where the winners of the poster presentation competition were announced. The top three participants received awards and recognition for their outstanding research. Speaking at the closing ceremony, Mr. Mohammed Mizanur Rahman, Executive Director, Operations, Square Pharmaceuticals Ltd. expressed his gratitude to all the participants and sponsors who supported the event. He also emphasized the need for more such events to promote research and innovation in the pharmaceutical industry.
The DIU Pharma Fest 2023 was a great success, and the organizers expressed their commitment to continue organizing such events in the future to promote research and innovation in the pharmaceutical industry.