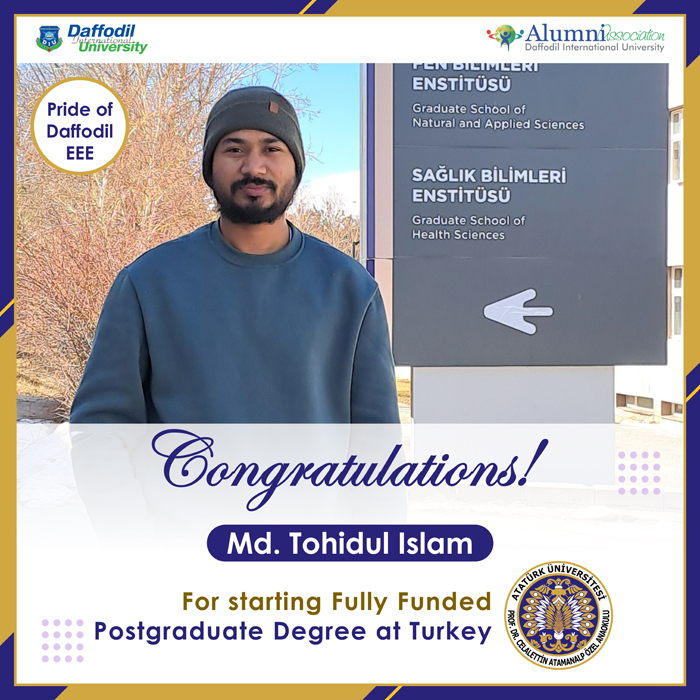 Tohidul Islam has been awarded a fully-funded scholarship named "Türkiye Bursları Scholarship" to pursue a Master's Degree in Electrical and Electronic Engineering at the Graduate School of Natural and Applied Sciences at Atatürk University in Turkey.
Tohidul Islam graduated from DIU in 2021, and his journey towards achieving this scholarship was full of challenges, including the global pandemic. However, with determination, the support of his family, and by the grace of Allah, he overcame these obstacles. Studying abroad had always been his dream, and he was thrilled to receive a letter from the scholarship committee informing him of his success.
Tohidul Islam credits his success to his earliest teachers, who instilled in him a love for lifelong learning. Throughout his time at DIU, they were his source of inspiration, pushing him to persevere through challenging times. His passion for engineering and his unwavering commitment to his craft have earned him the admiration of his peers and professors alike.
Tohidul Islam's achievements are a testament to the quality of education and support provided by DIU. His success is an inspiration to other students and a source of pride for the university. We wish him all the best in his future endeavors and look forward to seeing the great things he will achieve in his career.