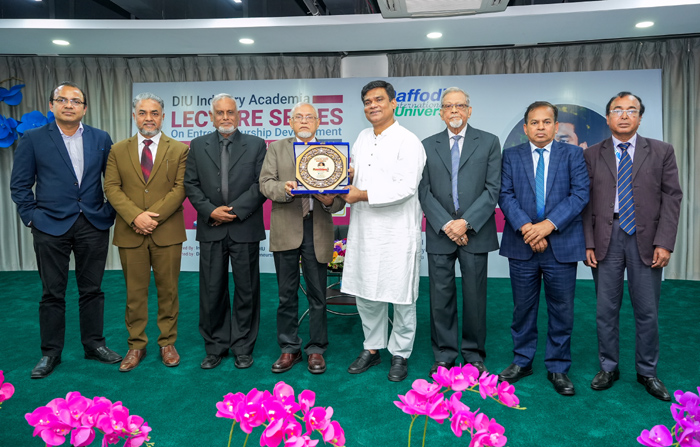 Akiz Group Chairman Sheikh Nasir Uddin, said that despite facing various limitations and adversities, the private sector entrepreneurs of Bangladesh have been increasing production in the country and creating new employment for a large number of people which is much more than the state-owned sector. But still, they have to face some problems which they do not have jurisdiction to solve. 
He told these while addressing as the keynote speaker of the first program of the second phase of the 'Industry-Academia Linkage Development' lecture series organized by Daffodil International University (DIU) today at International Conference Hall of the university at Daffodil Smart City at Birulia, Savar Dhaka.
He also said, private entrepreneurs are creating new positions for work. But they have to face big problems for lack of suitable and skilled manpower to fill the posts. As a result, some are bringing in people from abroad with high salaries and thereby increasing the cost of production of goods and services. But with the goal of permanent solution to the issue and the initiative to produce quality graduates is very limited.
A large number of graduates passing out from 8/10 top ranked universities in the private sector are becoming a burden rather than a human resource for the state, society and individuals. Praising Daffodil International University in this regard, Sheikh Nasir Uddin said, why other universities are not able to do it, the University Grants Commission (UGC) should take remedial measures after scrutinizing it.
Professor Dr. M. Lutfur Rahman, Vice-Chancellor of Daffodil International University presided over the lecture organized at the International Conference Hall of Daffodil International University. Professor Dr. Mustafa Kamal. Dean of Academic Affairs and Prof. Dr. Md. Masoom Iqbal, Dean of the Faculty of Business and Entrepreneurship spoke at the meeting.
Besides, Chairman of the board of trustees of Daffodil International University. Dr. Md. Sabur Khan delivered his greetings in a video message.
 Dr. Md. Sabur Khan in his message said that people like Sheikh Akiz Uddin will always be remembered in our country for the huge economic progress that has been made since the birth of Bangladesh till the present time. We are fortunate to have people like them leading our economy and their privileged children continuing that trend. I hope our students will read them, listen to them and accordingly contribute to our economy one day.
Vice-Chancellor Prof. Dr. M. Lutfar Rahman said, we have a lot to learn from people like Akiz Uddin Sahib and organizations like Akiz Group. From today's short event, we all realized that doing business requires more mental energy than money.
Daffodil International University is the only one in Bangladesh to have Innovation and Entrepreneurship Department, hope our students have gained a lot from this organization and the guidance of Sheikh Nasir Uddin.
DIU Pro Vice-Chancellor Professor Dr. SM Mahbubul Haque Majumder thanked the keynote speaker and Abu Taher Khan, Project Director, Industrial Innovation Center, delivered the welcome address in the program.
Daffodil International University introduced Industry-Academia Lecture series first in the year 2016 and since then, a total of 13 local and foreign eminent entrepreneurs have given their speeches on various topics related to entrepreneurship development under the first phase. A large part of those lectures has been compiled and published.
In line with the said lecture, Daffodil University recently published a book titled 'Life Struggle of Pioneer Entrepreneurs' on 12 prominent entrepreneurs of the country who were born before 1947. Dr. Md. Sabur Khan edited the book. It is declared that the second volume of the book, will be published soon, where the biographies of entrepreneurs born between1947-71 are going to be included.