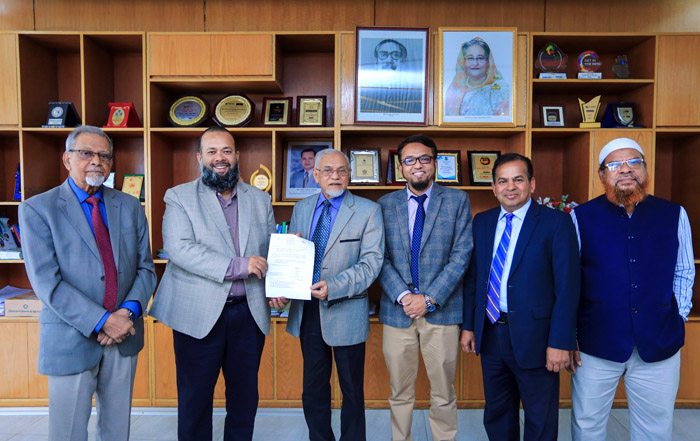 Mohammad Emran Hossain, Member of the Board of Trustees of Daffodil International University is handing over the certificate of permanent establishment and management of the University issued by the Ministry of Education to Professor Dr. M Lutfar Rahman.
The Ministry of Education has given Daffodil International University a certificate of permanent establishment and management after evaluating the overall issues including the education environment, quality standards, all the performance related to education and meeting all the conditions of the private university. This was informed to the university yesterday on January 01, 2023 through a letter from the Ministry of Education. According to the opinion of the Bangladesh University Grants Commission (UGC), this certificate is granted to Daffodil International University to permanently establish and operate the university in accordance with Section 10 of the Private University Act 2010. Since its establishment on January 24, 2002, Daffodil International University has been conducting academic activities following all the rules and guidelines of Bangladesh Ministry of Education as well as Bangladesh University Grants Commission for 21 years. For the last two years, the Bangladesh University Grants Commission has given this opinion subject to repeated inspection and advice. Founded in January 24, 2002, DIU is now creating educational opportunities for more than 20,000 students in 25 departments in 5 faculties at the end of 21 years. More than 50,000 former students of the university are proudly presenting their talents in the country and outside the country.
Team Diamond of this university has won the honor of becoming the champion in the NASA Space Apps Championship. In the last edition of Bangabandhu Inter-University Sports Championship, Daffodil University won the honor of becoming the champion among 125 universities across the country. It is noted here that Daffodil University is working tirelessly for the development of sports in the country.  Daffodil International University established on 30 acres of land at Daffodil Smart City at Birulia, Savar, is a sprawling green campus that has earned a reputation for its beauty in the country and beyond. Along with this reputation, there are MoUs for mutual educational exchange with nearly five hundred foreign universities for the expansion of quality education, creative activities.  Besides, 'One Student One Laptop', 'Go-Edu', Blended Learning Centre, Entrepreneurship Development, Industry-Academia Linkage Development, Sustainable Development (SDG), Innovation Lab, along with automation and online facilities ensures the quality of education of the students. 
It may be mentioned that Daffodil International University has achieved national and international recognition for its quality of education, international standards of research (publications and citations), employability of graduates, world-class teaching and learning environment, etc. Among them, the University has a prestigious position in Times Higher Education Impact Ranking, QS World University Ranking, UI Green Matrix Ranking, Nature Journal, Scientific Research, Scopus Index. Besides, Daffodil International University is working closely with various international organizations including AUP, IAUP, Global Entrepreneurship Network, OECD, UNDP, Future Nation and many more.