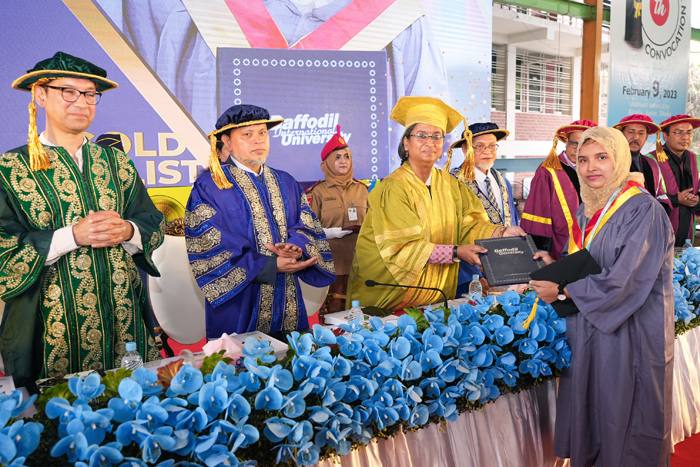 Education Minister Dr. Dipu Moni M.P, handing over the Chancellor Gild Medal at the 10th Convocation of Daffodil International University. Convocation Speaker Professor Atul Khosla, Founder and Vice Chancellor of Shoolini University, Himachal Pradesh, India, Dr. Md. Sabur Khan, Board of Trustees and Professor Dr. M Lutfar Rahman, Vice Chancellor of Daffodil International University were present in the program.   
Daffodil International University (DIU) holds its 10th convocation with colorful events on 9 February 2023 at Shawdhinata Sommelon Kendro of the university at Daffodil Smart City, Birulia Savar, Dhaka. Delegated by Md. Abdul Hamid, Honorable President of the People's Republic of Bangladesh and Chancellor of Daffodil International University Dr. Dipu Moni M.P, Honorable Minister, Ministry of Education, Government of the People's Republic of Bangladesh presided over the convocation ceremony and conferred the degrees. Professor Atul Khosla, Founder and Vice Chancellor of Shoolini University, Himachal Pradesh, India attended the convocation as the Convocation Speaker. The convocation ceremony was also addressed by Dr. Md. Sabur Khan, Board of Trustees and Professor Dr. M Lutfar Rahman, Vice Chancellor of the University. In the 10 th Convocation a total number 6164 students has been conferred upon graduation and post- graduation degrees and among them 12 best result oriented graduates will be awarded 'Gold Medal' in different categories.
While addressing among the students Dr. Dipu Moni, MP said, Convocation ends your institutional education. Now it's time to use your acquired education for the welfare of the country and the society. If the education you have acquired is of no use to the society and the country, it will be a great injustice and a great waste of the concerted efforts of your parents, teachers and the university. So, she urged the students totake a pledge today that you will try to give back to the country multiples of what you have received. Also contribute to the formation of digital Bangladesh.
She said that Daffodil International University has already achieved the permanent certificate by fulfilling all the conditions of the education environment, quality standards, education delivery performance and all the conditions of the private university act. In the international hackathon NASA Space Apps Challenge 2022 competition organized by NASA, among 2814 teams from 162 countries, Daffodil International University's software engineering team 'Team Diamonds' has been championed as the 'Most Inspirational' project.In the last Bangabandhu Inter-University Sports Championship among 125 public and private universitiesDaffodil International University became champion winning 12 gold, 8 silver and 7 bronze medals out of 21 events. These achievements prove that the students of this university are not only good in academics but also in sports. Not only that, the university has a prestigious position in the world famous Times Higher Education Impact Ranking, QS World University Ranking, UI Green Matrix Ranking. She expressed hope that Daffodil International University will continue its development and progress. 
At the welcome address DIU Chairman Dr. Md. Sabur Khan said, Daffodil International University has catalyzed innovation in education systems and ensured total digital transformation of its academic systems. We are taking all efforts to develop the modern flagship university,remarkably different in its devotion to access and equity; to the quality of its teaching, learning,research and to meeting national and regional socio-economic needs.", he added. He also said,DIU has created innovative courses, bolstered academia-industry relationships, expanded international collaboration, integrated innovation and creativity into its educational systems, placed the utmost importance on extra-curricular activities and ensured complete digital transformation of all its delivery systems. By assuring that a Z Generation would have access to all necessary support services and facilities, we attempted to create a comprehensive educational ecosystem. He mentioned some amazing success stories like, that we won the Championship at Bangabandhu Inter-University Sports Competition, DIU Students have won first place globally in the NASA Space Apps Challenge, hosted the AUAP 15th General Conference. We participated in the Job Utshob conference, a UNDP-sponsored event where 200+ organizations participated to help students find employment, he added
Daffodil International University is currently putting all its attention on developing " Doers and Leaders" who will drive innovation and provide answers for society in order to establish a sustainable present and promising future for the planet.
While addressing as the Convocation speaker Professor Atul Khosla said, life doesn't go according to the plans you make for it. Each of you will go through highs and lows, the difficult and the easy, and, regrettably, there may occasionally be too many challenges and not enough smooth sailing. How you handle both situations will determine your genuine level of success. He said, ther is a good probability that your first job after graduation won't pay you a million dollars as you move on to other challenges. You might not be hired for the first, second, or third, or even fourth job you apply for. Its okay if you never rise to the position of CEO of a top multinational or a smart Corporate in your lifetime. The crucial thing is that you have already begun the process of creating a more optimistic future. Your ability to adjust to change and obstacles has been cultivated via every lesson, lab session, class tests, project work or research, mid-semester and final examinations for the certification you have completed. I know the classes on holidays, or in the evening, or early in the morning at 7am were challenging. However, as you are aware, the world is tough, and nothing will be given to you.
He urged the students to follow the footprints of some of the high achievers, or active doers, or entrepreneurs, or a visionary like your BoT Chairman, Dr. Md. Sabur Khan; you will need to embark and re-embark on terrains of work and innovation "where angels fear to tread." he added