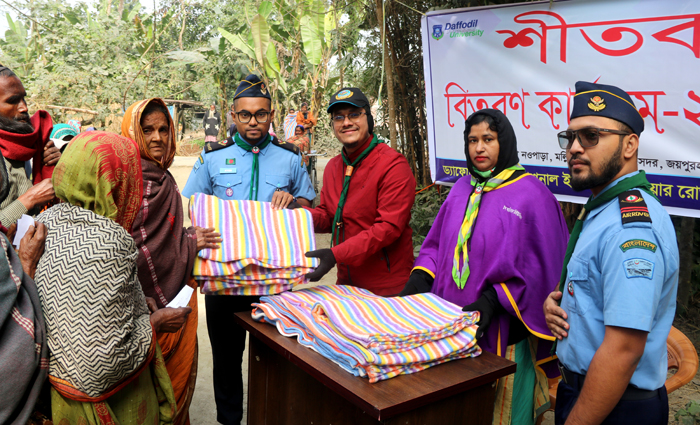 Daffodil International University (DIU) Air Rover Scout Group has distributed winter clothes among about 200 extremely poor and destitute families at Mallikpur in Jaipurhat district on 10 January 2023 . As the severity of the winter increased for several days, the suffering and suffering of the poor and helpless people increased proportionately. To alleviate their suffering, DIU Air Rover Scout Group has taken this initiative like every year.
A 6 member's rover team including Rover Scout Leader Farhana Rahman Setu, Assistant Director of the University and Rover Scout Leader Nazmul Hasan of DIU Air Rover Scout Group conducted the winter clothes distribution program with the help of local dignitaries.
DIU rovers worked tirelessly to collect and distribute winter clothes to put a smile on the faces of these helpless cold affected people. It may be mentioned that Daffodil International University Air Rover Scout Group has been conducting winter clothing distribution activities among extremely poor and destitute families in different parts of the country every year.
The University's Rover Scouts have dedicated themselves to human welfare throughout the year through the Scout movement, such as distribution of relief goods, rescue work, dengue mosquito eradication, service in Hajj camps, service in blood donation and vaccination programs, including discouraging the use of single-use plastic.