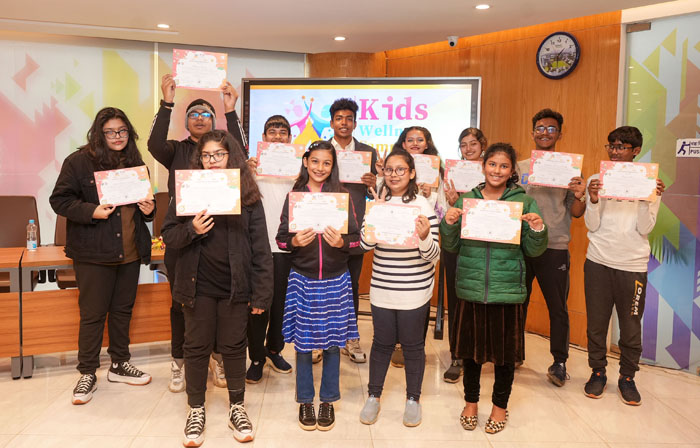 Daffodil International University, in collaboration with Healthy Living by IBD, Croatia and Terme Selce, Croatia, organized the first-ever Kids Wellness Camp in Bangladesh on January 6th, 2023. The camp was designed to improve the physical, mental, and nutritional well-being of children by providing them with a week-long program of activities and sessions led by experts in various fields.
15 participants from 4 schools participated in the camp, along with two registered guardians, and explored the facilities for five days from January 6th to 10th, 2023. The camp featured an opening ceremony with Professor Dr. Bellal Hossain as the chief guest, along with special guests Professor Dr. Salamat Khandker and Professor Dr. Md. Shahjahan. The chairperson and founder of the camp, M. Sc. Iva Brozičević Dragičević, prof. Croatia, extended a warm welcome to all of the participants and declared the camp officially open.
Throughout the week, campers participated in a variety of activities, including physical exercise, brain activity sessions, obstacle courses, nutrition workshops, cooking classes, and sports such as gold and swimming. The camp also featured sessions with experts in fields such as physical medicine, rehabilitation, and rheumatology.
On the final day of the camp, participants enjoyed a beautiful site visit to Rose Village (Golap Gram) and a closing ceremony with Chief Guest Professor Dr. M. Lutfar Rahman, Honorable Vice Chancellor of DIU, and Special Guests Professor Dr. S. M. Mahbub ul Haque Majumder, Honorable Pro Vice Chancellor of DIU, and Dr. Salamat Khandker, Professor of Public Health Department and In charge of DIU Medical Center in attendance. The children received their camp completion certificates and participated in an internal cultural program before departing for their homes.
The camp was a great success, providing children with an opportunity to improve their overall wellness and gain new skills and knowledge. The organizers of the camp extend their heartfelt thanks to all of the participants, staff, and guests for making this camp such a memorable and meaningful experience.