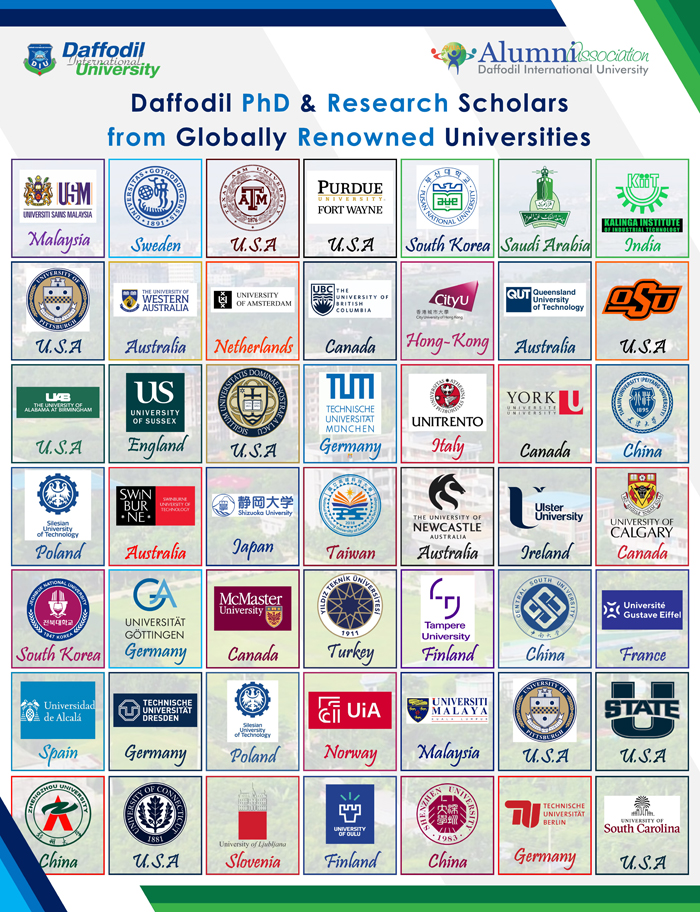 Daffodil always finds the pride in the success of #Alumni..! 
This time we are presenting a short list of Daffodil Alumni among few more hundreds who are contributing in the research and academic fields as the #Ph.D. and research Scholars from globally renowned Universities. 
Daffodil International University congratulates them for their diligence.
Source: DIU Alumni Cell, LinkedIn
#The_prides are: 
Dr. Iqbal Bhuyan, Adjunct Professor & Ph.D, at Chungnam National University, South Korea

Dr. A. F. M. Shahen Shah, Assistant Professor at Yildiz Technical University, Turkey

Dr. Aftab Hossain, Head, JMC at ,DIU. Ph.D at Universiti Sains Malaysia, Malaysia

Dr. Tanmoy Sana, Doctor of Philosophy (Ph.D.) at The University of Newcastle, Australia

Dr. Ehatasham Ul Hoque Eiten, Assistant Professor, English at DIU. Ph.D at KIIT University, India

Dr. Mainul Morshed, Assistant Professor at SEU. Ph.D at Tianjin University, China

Dr. Anisur Rahman, Doctor of Philosophy (Ph.D.) at Queensland University of Technology, Australia

Dr. Mohammad Nazmul Haque, Doctor of Philosophy (Ph.D.) at University of Newcastle, Australia

Dr. Poppy Siddiqua, Doctor of Philosophy (Ph.D.)

at The University of British Columbia, Canada

Dr. Md. Monir Uz Zaman, Doctor of Philosophy (Ph.D.) at University of Kalyani, India

Dr. A. A. M Muzahid (PhD), Lecturer at Shanghai University, China

Dr. Yasmin Jamadar, Lecturer at ALFAUC & Ph.D at Universiti Putra Malaysia, Malaysia

Dr. Omar Faruk, Doctor of Philosophy (Ph.D.) at KiiT University, India

Dr. Muhammad Ilias Hossen, Doctor of Philosophy (Ph.D.) at Jiangnan University, China

Dr. Md. Hasan Ikbal,

Associate Professor at BUFT. Ph.D at

Donghua University, China

Dr. Mohammad Abdul Hannan, Doctor of Philosophy (Ph.D.) at Università di Trento, Ital

Dr. A B M Moniruzzaman, Doctor of Philosophy (Ph.D.) at Queensland University of Technology, Australia

Dr. Md. Shamsul Arefin, Assistant Professor, BUBT & Ph.D., Swinburne University of Technology, Australia

Dr. Md Minhaz Chowdhury, Assistant Professor & Ph.D. at North Dakota State University, USA

Dr. Mohammad Mahfujur Rahman, Lecturer at Queensland University of Technology, Australia

Dr. Shamsul Kabir Masum, Lecturer & Ph.D. at University of Portsmouth, UK

Dr. S I M M Raton Mondol, Doctor of Philosophy (Ph.D.) at Inha University, South Korea

Dr. Joyraj Chakraborty, Lecturer, University of Essex, Uk & Ph.D. at The Silesian University of Technology, Poland 

Dr. M Hasan Parvez, Doctor of Philosophy (Ph.D.) at KIIT University, India 

Dr. Mohammad Aman Ullah, Doctor of Philosophy (Ph.D.) at Universiti Sains Islam Malaysia, Malaysia

Dr. Md Alamgir Kabir, Doctor of Philosophy (Ph.D.) at City University of Hong Kong, Hong Kong

Dr. Nafis Mahmud Khan, Doctor of Philosophy (Ph.D.) at Kalinga Institute of Industrial Technology (KIIT), India

Dr. Amena Khatun, Software Developer, QUT at Queensland University of Technology, Australia 

Dr. Ferdous Ahmed Khan, Mail Officer COLT, Austalia Post, Au. Ph.D at Inha University, South Korea

Prof. Khairul Hafiz, Associate Professor at Graduate School, Norton University, Cambodia

Mohammad Akteruzzaman, Professor of English

at Montessori Community School, USA

Ashiqur Rahman, Doctor of Philosophy (Ph.D.) at Pusan National University - PNU, South Korea

Sakiba Binte Yusuf, Doctor of Philosophy (Ph.D.) at Zhenghou University,

China

Shahin Sarwar, Doctor of Philosophy (Ph.D.) at University of Gothenburg, Sweden

Md Iqbal Hossain, Doctor of Philosophy (Ph.D.) at University of Massachusetts Dartmouth, USA

Shahariar Rabby, Doctor of Philosophy (Ph.D.) at University of Alabama, USA

Saima Afrin, Doctor of Philosophy (Ph.D.) at The College of William & Mary, Virginia, USA

Rifatul Islam Himel, Doctor of Philosophy (Ph.D.) at Utah State University, USA

Sirajum Munira, Doctor of Philosophy (Ph.D.) at The University of Notre Dame, Indiana, USA

Md Nazmul Aunsary, Doctor of Philosophy (Ph.D.) at National Kaohsiung University of Science and Technology, Taiwan

Masum Shah Junayed, Doctor of Philosophy (Ph.D.) at University of Connecticut, USA

Mohammad Mamunur Rashid, Doctor of Philosophy (Ph.D.) at University of Ljubljana, Slovenia

Sayekat Kumar Das, Doctor of Philosophy (Ph.D.)

at Central South University, China

Ashrafur Rahman, Doctor of Philosophy (Ph.D.) at Technische Universität Berlin, Germany

Sajjadul Alam, Doctor of Philosophy (Ph.D.) at Nanhua University

, China

Marzan Tasnim Oyshi, Doctor of Philosophy (Ph.D.) at Technische Universität Dresden, Germany

MD. Rafiqul Alam, Doctor of Philosophy (Ph.D.) at The University of Western Australia, Australia

Narayan Ranjan Chakraborty, Doctor of Philosophy (Ph.D.) at University of Agder (UiA), Norway

Md. Abul Hassan, Doctor of Philosophy (Ph.D.), Mext Scholar at National university in Shizuoka, Japan

Lata Rajbongshi Howlader, Doctor of Philosophy (Ph.D.) at Pusan National University - PNU, South Korea

A.B.M Bayazid, Doctor of Philosophy (Ph.D.) at Konkuk University, South Korea

Maisum Sarwar

Doctor of Philosophy (Ph.D.) at Shizuoka University, Japan

Mohammad Mohaiminul Islam, Doctor of Philosophy (Ph.D.) at University of Amsterdam, Netherlands

Engr. Md. Borhan Uddin, Doctor of Philosophy (Ph.D.) at Shenzhen University, China

Muhaiminul Islam, Doctor of Philosophy (Ph.D.) at Jeonbuk National University, South Korea

Md. Azizur Rahman, Doctor of Philosophy (Ph.D.) at University of Malaya

, Malaysia

Mohammad Reyad Hossain, Doctor of Philosophy (Ph.D.) at Universiti Putra Malaysia, Malaysia

Md. Harun Or Rashid, Doctor of Philosophy (Ph.D.) at University of Hyogo, Japan

Mohammad Ibrahim S, Doctor of Philosophy (Ph.D.) at Universidad de Alcalá, Spain

Sheikh Shah Mohammad Motiur Rahman, Doctor of Philosophy (Ph.D.) at Université Bourgogne-Franche-Comté, France

Md. Sanzidul Islam, Doctor of Philosophy (Ph.D.) at King Abdulaziz University, Saudi Arabia

Sheikh Abujar, Doctor of Philosophy (Ph.D.) at The University of Alabama at Birmingham, USA

Ibrahim Uba Yusuf, Doctor of Philosophy (Ph.D.) at University of Hildesheim, Germany

Mohammad Nurul Hassan Reza, Doctor of Philosophy (Ph.D.) at Multimedia University, Malaysia

Lutfur Rahman, Doctor of Philosophy (Ph.D.) at South Asian University, India

Muhammad Ifte Khairul Islam, Doctor of Philosophy (Ph.D.) at Oklahoma State University, USA

Sayed Jobaer, Doctor of Philosophy (Ph.D.) at Donghua University, China

Amrita Paul Nishu, Doctor of Philosophy (Ph.D.) at Georg-August-Universität Göttingen, Germany

G M Sabil Sajjad, Doctor of Philosophy (Ph.D.) at Université du Québec à Trois-Rivières, Canada

Jubayer Hasan, Doctor of Philosophy (Ph.D.) at Moscow State Textile University, Russia

Md Ismail Hossain, Doctor of Philosophy (Ph.D.) at University of Alabama, Birmingham USA

S M Salah Uddin Kadir, Doctor of Philosophy (Ph.D.) at University of Houston, USA

Md Rashedul Hasan, Doctor of Philosophy (Ph.D.) at University of Nebraska Lincoln, USA

Md Mojibur Rahman Redoy Akanda, Doctor of Philosophy (Ph.D.) at Texas A&M University, USA

Fahmida Akter, Doctor of Philosophy (Ph.D.) at University of South Carolina, USA

Monjur Bin Shams, Doctor of Philosophy (Ph.D.) at The University of Texas at El Paso, USA

Gulfam Ahmed Saju, Doctor of Philosophy (Ph.D.) at University of Massachusetts Dartmouth, USA

Md Arafat Hossain, Doctor of Philosophy (Ph.D.) at Auburn University, USA

Ejaj-Ur Rahaman, Doctor of Philosophy (Ph.D.) at Universiti Sains Malaysia, Malaysia

Md Abdul Kadir, Doctor of Philosophy (Ph.D.) at University of Louisiana at Lafayette, USA

Sheikh Muhammad Asrar Ahmad, Doctor of Philosophy (Ph.D.) at Gangseo University (강서대학교), South Korea

Md. Mizanur Rahman, Doctor of Philosophy (Ph.D.) at Chang'an University, Canada

AL Nahian Bin Emran, Doctor of Philosophy (Ph.D.) at George Mason University, USA

Soikat Hasan Ahmed, Doctor of Philosophy (Ph.D.) at Gachon University, South Korea

Sumon Mozumder, Doctor of Philosophy (Ph.D.) at McMaster University, Canada

Sabbir Ahmed, Doctor of Philosophy (Ph.D.) at University of Oulu, Oulu, Finland

Gollam Rabby, Doctor of Philosophy (Ph.D.) at University of Economics, Prague, Czechia

S M Salahuddin Morsalin, Doctor of Philosophy (Ph.D.) at National Yunlin University of Science and Technology, Taiwan

Md Mahmud, Doctor of Philosophy (Ph.D.) at Sunway University, Malaysia

Bidita Rahman, Doctor of Philosophy (Ph.D.)at St. John's University, USA

Beauty Akter, Doctor of Philosophy (Ph.D.) at University of Sussex, England

Md. Zahirul Islam, Doctor of Philosophy (Ph.D.) at Jashore University of Science and Technology, Bangladesh 

Tanvir Ahmed Chowdhury, Doctor of Philosophy (Ph.D.) at Jahangirnagar University, Bangladesh

Sabrina Rahman, Research Assistant, AG Cognitive Systems at University of Bremen, Germany

Tasnuva Ali, Doctor of Philosophy (Ph.D.) at Universiti Sains Islam Malaysia, Malaysia 

Ifthekharul Islam, Adjunct Faculty at Green River College, USA

Faria Hossain, Partime Lecturer at London South Bank University, England

Mir Sadia Siddequa Sifat, Adjunct Faculty at Bangladesh University of Professionals (BUP), Bangladesh 

Sharmin Sultana , Lecturer at Independent University Bangladesh, Bangladesh 

MD. RIAZUR RAHMAN, Foreign Teacher at Zhongyuan University of Technology, China

Hasibul Alam, Graduate Research Assistant at The University of Texas Rio Grande Valley, USA

Shatabdi Goon, Graduate Research Assistant at University of Pittsburgh, USA

Ovi Sajeedin, Graduate Research Assistant at University of Saskatchewan, Canada

Sadman Saumik Islam, Graduate Research Assistant at Memorial University of Newfoundland, Canada

Syed Billal Hossain, Graduate Research Assistant at Technical University Munich, Germany

Md kamrojjaman, Graduate Research Assistant at Kwangwoon University , South Korea

Imrus Salehin, Graduate Research Assistant at Dongseo University, South Korea

Tasnimul Alam Taz, Graduate Research Assistant at Wayne State University, USA

Showkot Rassel, Graduate Research Assistant at Universiti Teknikal Malaysia Melaka, Malaysia

Muzahidul Islam, Graduate Research Assistant at Northwestern Polytechnical University, China

Tanjina Alam, Graduate Research Assistant at Villanova University, USA

Imranul Islam, Graduate Research Assistant at University of Eastern Finland, Finland

Md Arafat Hossain, Graduate Research Assistant at Universiti Teknologi Malaysia (UTM), Malaysia

Md. Showkat Hossain Chy, Graduate Research Assistant at Baylor University, USA

Md Rokibul Hasan, Graduate Research Assistant at Southeast Missouri State University, USA

Tanvirul Islam, Graduate Research Assistant at New Jersey Institute of Technology , USA

Rifat Bin Mahi, Graduate Research Assistant at University of Electronic Science and Technology of China, China

Md Towfiqul Alom, Graduate Research Assistant at Tampere University, Finland

Mohammed Ishtiaq Ali, Graduate Research Assistant at University of South Wales, England

Md. Uzzal Hossain, Graduate Research Assistant at Technische Universität Dresden, Germany

Md Reaz Mahmud, Graduate Research Assistant at Pusan National University, South Korea

Nafiz Mahamud, Graduate Research Assistant at The Catholic University of America, USA

Rachel S., Graduate Research Assistant at Texas State University, USA

Tasnuva Nuhat Shafin, Graduate Research Assistant at Winship Cancer Institute of Emory University, USA

Sagar H., Graduate Research Assistant at South Dakota School of Mines and Technology, USA

Samiul Islam Anton, Graduate Research Assistant at University of New Haven, USA

Tahsir Ahmed Munna, Graduate Research Assistant at Universidade Lusófona de, Portugal

Pronab Ghosh, Graduate Research Assistant at Lakehead University, Canada

Saiful Islam, Graduate Research Assistant at Hanyang University, South Korea

Nasrin Akter, Graduate Research Assistant at University of Oklahoma, USA

Inam Ullah Khan, Graduate Research Assistant at United International University, Bangladesh

Moumita Ghosh, Graduate Data Analyst at The University of New Mexico, USA

Nahian Fyrose Fahim, Graduate Teaching Assistant at Purdue University Fort Wayne, USA

Shadikur Rahman, Graduate Teaching Assistant at  York University, Canada

Zaman Wahid, Graduate Teaching Assistant at University of Calgary, Canada

Muhammad Younus, Graduate Teaching Assistant at University of Calgary, Canada

Taposh Biswas, Graduate Teaching Assistant at Delaware State University, USA

Mohammad Shakirul Islam, Graduate Teaching Assistant at University of Victoria, Canada

Md Rasedul Hauque, Graduate Teaching Assistant at Northwestern Polytechnic University, USA

Afsana Ahsan Jeny, Graduate Teaching Assistant at Wayne State University, USA

Tabassum Mustary, Graduate Teaching Assistant at University of Wyoming, USA

Masum Rana, Graduate Teaching Assistant at University of South Dakota, USA

JAHIRUL ISLAM, Graduate Teaching Assistant at University of South Dakota, USA

Romyull Islam, Graduate Teaching Assistant at Austin Peay State University, USA

Nishat Tasnim, Graduate Teaching Assistant at Austin Peay State University, USA

 Mahedi Azim, Graduate Teaching Assistant at Treloar's School and College, England

Shahana Shultana, Graduate Teaching Assistant at Prairie View A&M University, USA

Maruf Ahmed, Graduate Teaching Assistant at United International University, Bangladesh 

Mousumi Akter, Associate's degree at Middlesex Community College, England

Samia Nasrin, Data Science Intern at Université Gustave Eiffel, France

Maliha Tayaba, Post Graduate Student at University of South Dakota, USA

Tanvir Ahmed, Post Graduate Student at Westcliff University, USA

Zarin Tasnim Noushin, Post Graduate Student at Ulster University, Ireland

Md Asif Siddiqui, Post Graduate Student at University of Bremen, Germany

Md Israfil Hossain, Post Graduate Student at Universiti Teknikal Malaysia Melaka, Malaysia