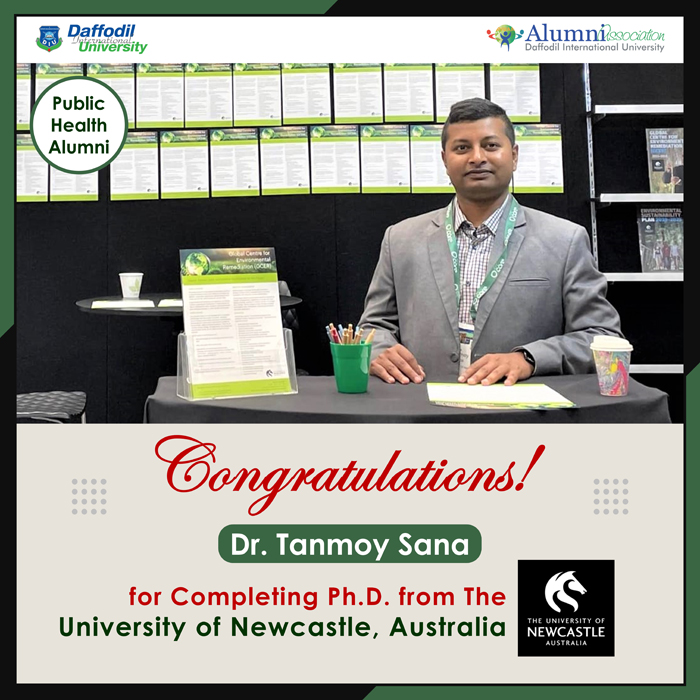 Dr. Tanmoy Saha, an alumnus from the Department of Public Health, Daffodil International University (DIU) has recently completed his PhD Degree with a fully funded scholarship from The University of Newcastle, Australia, which is ranked 231 in Best Global Universities.
Dr. Saha completed his Masters from The Department of Public Health in 2015 from Daffodil International University (DIU). In  2017 he got the opportunity to avail a PhD degree with UNIPRS and UNRSC scholarship in The University of Newcastle, Australia. His PhD thesis title was 'Comparative Toxicity Studies of Short-and Long-Chain Perfluorocarboxylic Acids (PFCA) on Caenorhabditis Elegans'. During his PhD, he also worked as a full time PhD Researcher in the same University. 
From 2015, he has started his career as a Public Health Researcher at Bangladesh Center for Communication Programs. Later he joined Beximco Pharmaceuticals Ltd. as The Senior Brand Executive. He began his international career as an Allied Health Assistant at Hunter New England Local Health District, Australia. Currently he is working as a Public Health Project Officer in the Dept. of Health & Wellbeing, Adelaide, Australia.