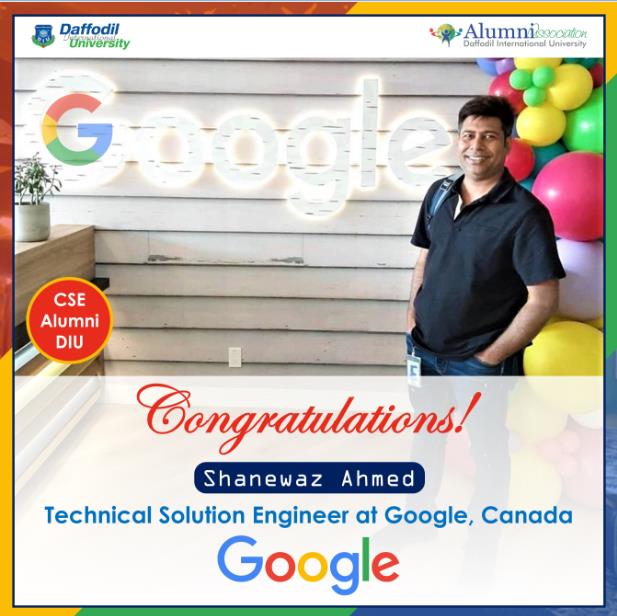 Mr. Shanewaz Ahmed, an alumnus from the Department of Computer Science and Engineering (CSE), Daffodil International University (DIU) has recently joined the largest global multinational technology company, Google, Canada. He completed his Bachelor Degree in 2007 from Daffodil International University (DIU).
Early on in his life, Shanewaz met with various challenges. He wanted to become a Navy Officer and worked hard for it. Two times in a row, he reached as far as the ISSB but was eventually turned down by the selection board. However, this did not affect his motivation as he also had an alternative career choice in mind, which was to go for 'engineering'. Finally, he decided to pursue a bachelor's program in computer engineering. Accordingly, he completed his BSc. in Computer Science & Engineering from Daffodil International University (DIU). To reach today's position, his university was a great motivation for him. His teachers were very welcoming, knowledgeable, and excellent mentors. In addition, the diversified skill-building training and extra-curricular programs at the university prepared him to succeed in every aspect of life.
From the beginning of his career, he grew a particular interest in computer infrastructure and networking domains and was passionate to specialize in those. He worked for about ten years in these areas in Bangladesh. Then he decided to move to North America either for education or as a permanent resident. Canada was his first preference because of the quality of life and growth opportunities in his field of work there. As his work experience from Bangladesh in computer networking and infrastructure was one of the skills in demand in Canada, he chose to immigrate to Canada as a PR under the Skilled Worker Program. He finally moved to Canada in 2017. In Canada, he worked in various technology roles at different companies, and his primary focus was infrastructure/networking. He applied to Google for this TSE position, received the interview call, went through Google's rigorous screening and recruitment process, and finally joined the company in November of 2021.
In the future, he wishes to contribute to the IT training and development field in his beloved Bangladesh and play a significant role in empowering the students of his university, DIU.