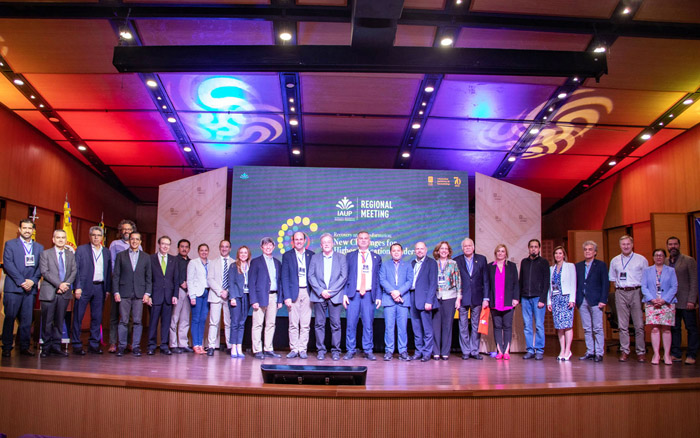 The Regional Meeting 2022 of the International Association of University Presidents (IAUP) was held on the theme "Recovery and Transformation: New Challenges for Higher Education Leaders" in Colombia from September 28 to 30, 2022. With in-person and virtual attendees, including the President's executive officers from 10 countries including the host country, Mexico, Costa Rica, Austria, Spain, USA, UK, Georgia and Bangladesh, the 2022 IAUP Regional Meeting was held at Universidad Autónoma de Bucaramanga (UNAB) in Colombia. The Regional Meeting focused on the transformation that higher education institutions must undergo to achieve a positive social and economic impact, the responsibility that academia has with global sustainability and commitment to SDGs, and finally, on how to prioritize wellness and mental health in students. 
For three days, the higher education leaders from around the world came together to discuss highly relevant topics that contribute to the enhancement of senior leadership in the context of current trends and future needs. Dr Md. Sabur Khan the Founder and Chairman of Daffodil International University (DIU) attended the regional meeting and represented the Bangladesh HEIs in this prestigious global platform. He has presented a keynote speech on " Today's Higher Education key value proposition: Student wellbeing, life project and employability" where Dr. Khan has highlighted the mental and physical health issues, ways to develop confidence among the students and importance of surveys to know the exact status of HEI and take timely initiative to face challenges of the time. The session was highly appreciated by the global leaders. Besides, the leaders took part in different meetings, networking sessions, spoke on social agendas, concert on symphonic orchestra and signed MoU to work collaboratively on different agendas. 
Dr. Md. Sabur Khan, during this meeting also signed a Memorandum of Understanding (MoU) with Universidad Autónoma de Bucaramanga (UNAB), Colombia on September 30, 2022 at UNAB's Campus with a view of extending collaboration in the area of student exchange, faculty visits, online mobility, scholarships, research activity, and more. Dr. Juan Camilo Montoya Bozzi, Rector of UNAB along with other officials were present during the signing ceremony held on the occasion of IAUP Regional Meeting 2022 whereas Dr Khan signed it for DIU. 

The event took place in a time, when the city of Bucaramanga is celebrating 400 years of it´s foundation and UNAB is commemorating it´s 70th anniversary, the Higher Education Institutions leaders came forward for the possible transformation of education systems.