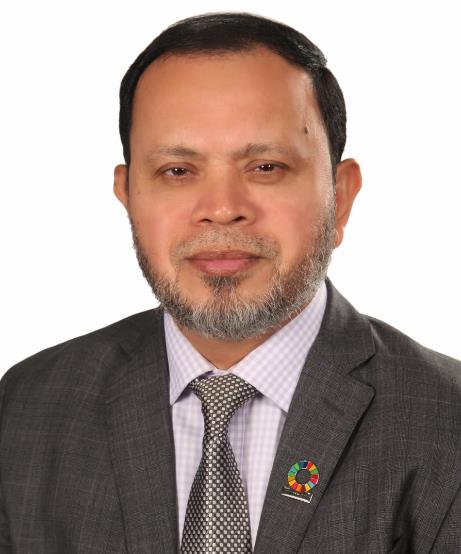 Dr. Md. Sabur Khan, one of the recognized leader in the ICT and Education sector and frontline key player in developing the Entrepreneurial EcoSystems in Bangladesh has recently been nominated as the Managing Director of Global Entrepreneurship Network, the largest Entrepreneurial  platform of projects and programs in 200 countries and contributing by fostering deeper cross border collaboration and initiatives between entrepreneurs, investors, researchers, policymakers and entrepreneurial support organizations. His joining as the Managing Director of this Global Entrepreneurship Network has brought a new hope and opportunities for the Talents of the Country and also for the entrepreneurs, investors, researchers, policymakers and entrepreneurial support organizations. From now and on Dr. Khan will actively contribute in bridging the National Talents and Institutions with Global Leaders and Institutions which will definitely broaden the scope for the country.
Dr. Khan is already a very popular name in this field and he is the one who has first initiated a project of creating 2000 Entrepreneurs during the year 2013 while he was the President of Dhaka Chamber of Commerce and Industries. Also he has co-founded many of the relevant institutes like, Business Incubator, Venture Capital, Department of Innovation and Entrepreneurship, Knowledge vale so that young generation can learn and Explore their talents during their studentship. He has also introduced EDF (Entrepreneurship Development Fund) for the students and has written & published several books on Entrepreneurship in different languages. He has also initiated many projects like Startup Market, boosted up Oitijjer Haat, Jibika Project to help the Young and Disadvantage group to explore their product and to become self-sustained.  Through the Jibika Project he has helped almost 1500+ families to get self-sustained. He has established 54 concerns in the Daffodil Family where 5000 plus people are working and more than 50000 students are studying in the Educational network. He has led many local leading organizations and associations as well and kept his excellent leadership example too. Dr. Khan has achieved many awards nationally, and internationally. 
Due to his Entrepreneurial contributions he was awarded a lot of Honorary Doctorate Degrees by various European and Asian Universities. Also Bangladesh Government awarded him "CIP" position as a recognition of his effort in the development arena. He got recognition from Honorable Prime Minister Sheikh Hasina at the BCS Digital Expo in 2009 for his special contribution to the ICT industry. He got recognition from Honorable President Abdul Hamid Chowdhury, Late President Zillur Rahman, for his outstanding leadership and effort in different times. 
Previously Dr. Khan has promoted "Get in the Ring", "Global Entrepreneurship World Cup", Global Entrepreneurship Week, Startup Huddle Dhaka and many other GEN efforts in Bangladesh and represented Bangladesh in the GEN Global where Dr Khan has been highly appreciated for his excellent leadership, visionary efforts, outstanding contribution and therefore nominated him as the MD to represent GEN in this global platform. It may be mentioned here that, previously organizations like DCCI, BIDA, A2i, ICT Division, Startup Bangladesh, BCS, BASIS, SME Foundations, Central Bank have supported the effort of GEN in different ways where Dr. Khan has played a leading role. After joining this Global Community as the MD, Dr. Khan is going to announce its National Board in his leadership and soon the National Board will start to work actively focusing on the GEN Global Mission to make GEN Bangladesh the most vibrant unit of the Global Community.