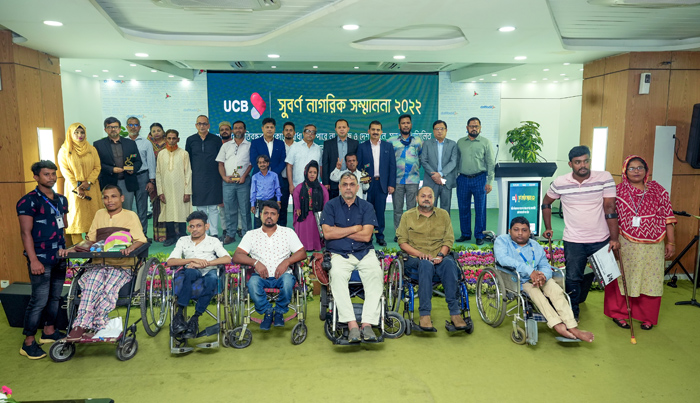 Suborna Nagorik Foundation, an organisation that works for the betterment of persons with disabilities, in association with United Commercial Bank (UCB) and The Daily Star, yesterday honoured 15 successful individuals with disabilities, special needs children's parents, organisations that employ physically challenged people, and sports organisations where differently abed people are included. The event held at capital's Daffodil Education Network Conference Hall in Dhanmondi. 
A total of 15 persons with disabilities and organisations working for them from different parts of the country were honoured with crests and certificates yesterday at Daffodil Education Network Conference Hall in Dhanmondi.
The event, titled "UCBL Suborna Nagorik Award 2022: Special Citizen Award for Changing perception and Improving the Quality of Life of Persons with Disabilities", was organised by the Suborna Nagorik Foundation, which works for the betterment of disabled people in Bangladesh.
The event was sponsored by United Commercial Bank (UCB), with The Daily Star as a media partner and Daffodil International University as a strategic IT partner.
The awards were presented in four categories -- special needs children's parents, successful persons with disabilities, organisations employing physically challenged people, and sports organisations with specially challenged people.
In a special category, titled "Silent Heroes", seven independent persons with disabilities, who have become self-reliant despite their challenges and have been guiding others to be independent, were also awarded.
This special civic honour was aimed at the issue that physical adversity cannot be an obstacle and persons with disabilities can reach the expected goal with the collective efforts in building the country.
"The number of people with physical disabilities in Bangladesh is more than one and a half crore. More than half of them are women and children. A large section of the country's citizens are grossly neglected, backward, and unemployed. Their position is at the bottom of the economy," said Suborna Nagorik Foundation founder and CEO Asif Iqbal Chowdhury, also moderator of the event.
"It is not possible to achieve the desired development goals of the country without including this large number of people," he added.
Mostafa Azad Chowdhury Babu, FBCCI senior vice president, was also present at the event.
He invited the Suborna Nagorik Foundation at FBCCI to discuss a campaign among businessmen across the country to create job opportunities for persons with disabilities.
Syed Ashfaqul Haque, executive editor, The Daily Star; Dr Md Sabur Khan, founder and Chairman Board of Trustees, Daffodil International University; ATM Tahmiduzzaman, deputy managing director, UCBL; Abul Kalam Azad, EVP and head of Brand Marketing and Corporate Affairs, UCBL; spoke at the event, among others.
This initiative was officially launched with a press conference at the Gulshan Head Office of UCBL on June 14, 2022.