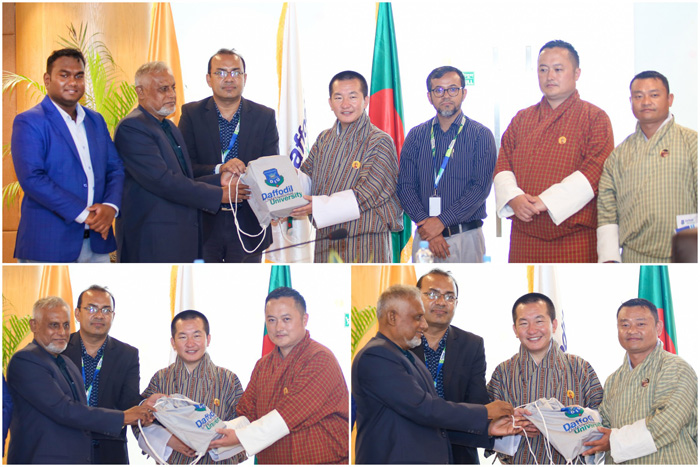 To explore the academic and institutional excellences of Daffodil International University (DIU), Bangladesh, a delegation of three members led by Rinzin Jamtsho, Honorable Member of Parliament, Bhutan visited DIU at Daffodil Smart City on 28 August 2022. Professor Dr. Md Fokhray Hossain, Director, International Affairs and Dean of FSIT welcomed the delegation at DIU. The delegation was also accompanied by Mr. Namgay, Managing Proprietor, Norzang Enterprise, Phuntsholing, Bhutan and Mr. Rinchen Pelzang, Technical Executive, Bhutan Seedlings Nursery Farm, Punakha, Bhutan.
The delegation had an effective meeting with Dean of FBE and Dean of FHSS along with Teachers of Dept of Development Studies along and
International Affairs, DIU
officials to discuss collaborative future prospects such as sharing best practices, welcoming Bhutanese students to study at DIU and exchange of youth delegation between Bangladesh and Bhutan. After the meeting the delegation had a guided tour around the mesmerising green campus, facilities and more. Currently DIU is having a good number of foreign students studying at DIU including some students from Bhutan both in Bachelor and Masters level.