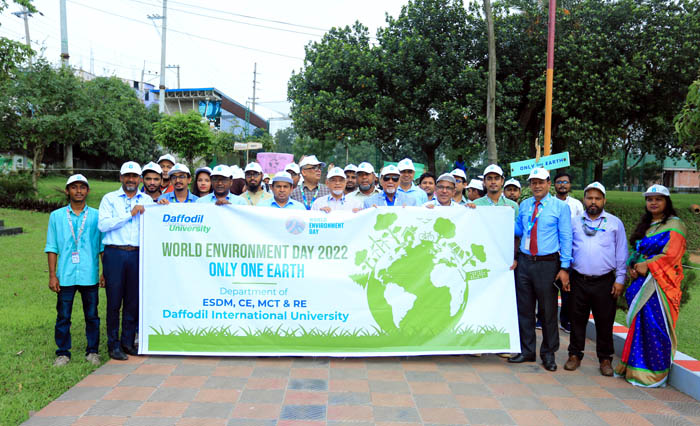 With a view to create mass awareness for conservation of nature and environment Daffodil International University (DIU) observed 50th anniversary of "World Environment Day 2022".  Based on the theme on " Only One Earth: Living Sustainably in Harmony with Nature" to mark the day DIU chalked out elaborate programs including Rally, Discussion Session, tree plantation and Cleaning campaign.   Department of Environmental Science and Disaster Management (ESDM), Department of Civil Engineering, Department of Multimedia & Creative Technology (MCT) and Department of Real Estate jointly organized the programs today on 5th June 2022 at the Daffodil Smart City, Ashulia campus.
Professor Dr. M Lutfar Rahman, Vice Chancellor, Daffodil International University was present as the chief guest while Prof. Dr. S M Mahbub Ul Haque, Pro Vice Chancellor and Prof. Dr. Mostafa Kamal, Dean Academic Affairs were present as th special guests.   Professor Dr. A. B. M. Kamal Pasha ;  Head Department of ESDM , Dr. Mahfuza Parveen ;Associate Professor (ESDM) , Dr. Amir Ahmed ; Head Department of Real Estate, Professor Dr. M. R. Kabir Department of Civil Engineering, Dr. Miah M. Hussainuzzaman ; Associate Professor Department of Civil Engineering, Professor Dr. Shaikh Muhammad Allayear ; Head Depatment of MCT joined the seminar session. Mr. Md. Sadril Islam Khan, Lecturer of ESDM and Aivee Akhter, Alumnus, Department of ESDM made a presentation about environment restoration.
Speakers at the seminar said there is no alternative to build a close relation with the nature and environment for the existence of mankind in the world. Terming  Bangladesh as a land of beauty, the speakers said that  Geographical locations, hills , rivers forests and the Bay of Bengal has made Bangladesh  in to a splendorous  land for living. The urged all to restore the environment to make development sustainable for the betterment of people who depend on the nature for their livelihood.