March of Rover Movement at Daffodil International University
A milestone in the history of Private Universities of Bangladesh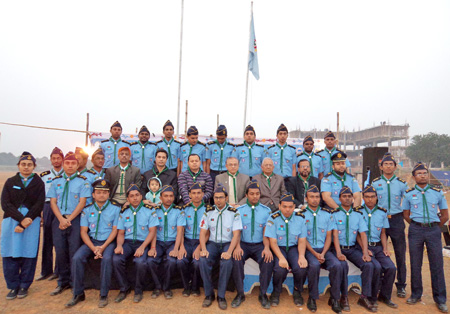 DIU Air Rover Unit with the guests
DIU Air Rover Scout Unit officially launched at Daffodil International University on January 13, 2012 through "Training Camp" and "Oath Taking Ceremony" at the permanent campus of the university at Ashulia. A four day long training camp for the Rover was arranged from January 11-14, 2012. The camp included Training, Oath Taking Ceremony and Grand Camp Fire. This is for the first time in the history of Private universities of Bangladesh to introduce Rover Movement at Daffodil International University.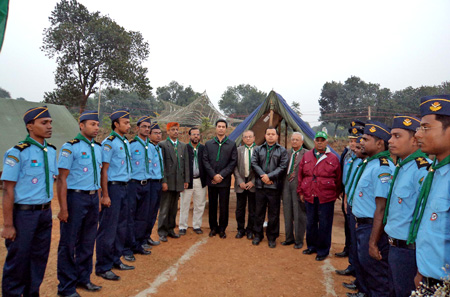 Rovers with the guests in front of their tent
with Emeritus Professor of Daffodil International University Dr. Aminul Islam, was present on the occasion as the chief guest. Prof. Md. Riazul Islam Basunia, Former Deputy National Commissioner (Training), Bangladesh Scouts and Squadron Leader Hossain Moahmmad Rajib, Joint Secretary, Bnagladesh Scouts, Air Region were present on the function as the special guests, Presided over by Prof. Dr. M. Lutfar Rahman, Vice Chancellor & Camp Chief, the function was also addressed by Md. Sabur Khan, Chairman, Board of Trustees, Mr. Md. Emran Hossain - Unit Leader, Md. Ziaul Haque Sumon –Group Secretary. Sheikh Arifur Rahman Raju, RSL,Dhaka District Air. The Function was attended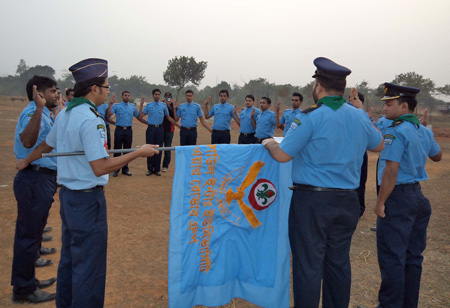 Deputy Registrar & Unit Leader of the DIU Air Rover Mr. Md. Emran Hossain is conducting "Oath Taking Ceremony"
The training was conducted by the Senior Rover Meet of Tiger Shark Air Rover Unit Shaon, Bappy, Rajon, Rabby and Rover meet Musa, Mamun, Shakhar, Faizul.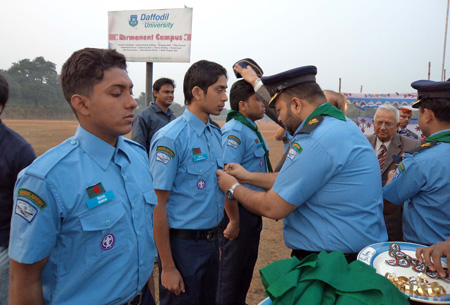 Deputy Registrar & Unit Leader of the DIU Air Rover Mr. Md. Emran Hossain is seen to wear a badge to a Rover
Addressing as the chief guest Emeritus Prof. Dr. Aminul Islan said, Scouting can play a vital role in developing career and building character of a student though which students can practice of becoming a successful leader and contribute a lot to the society. He also said, Daffodil International University always stresses on Extra Curricular & Co- curricular activities and introducing Rover Movement at the university, Daffodil International University has set an example to be followed by other private universities.
Earlier Mr. Md. Emran Hossain, Deputy Registrar and Unit leader of DIU Air Rover Unit inaugurated the four day long camp on January 11, 2012.
DIU authority also expects to introduce a girl's Rover Unit very soon and interested female students are requested to contact with rover mats very soon.