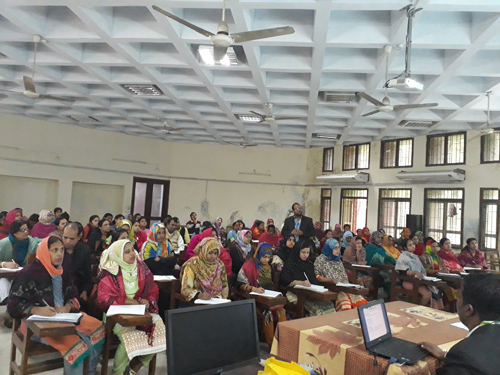 Dr. ABM Alauddin Chowdhury, Assistant Professor at the Department of Public Health of DIU presenting the research findings as a Keynote speaker at the College of Nursing at Mohakhali in Dhaka.
As the part of promotional activities Department of Public Health of Daffodil Intentional University (DIU) organized a scientific research seminar titled "Prevailing Social Obstacles in keeping Tobacco- Free Homes in Urban Areas: Realizing Ways to Overcome the Challenges" on December 09, 2017 at the College of Nursing at Mohakhali in Dhaka. Dr. ABM Alauddin Chowdhury, Assistant Professor of Department of Public Health of DIU was present as Keynote Speaker while Professor Dr. Harun-Ar-Rashid of the department was present as discussant in the seminar, The seminar was chaired by Dr. Jacinta Alimpia Gomes, Principal, College of Nursing.
In response to the request of the authority of College of Nursing at Mohakhali, Mr. Md. Imdadul Haque, Lecturer, Department of Public Health, DIU coordinated and anchored the seminar. He was also the Principal Investigator of this research grant which he achieved from Institute of Global Tobacco Control (IGTC), USA based at Johns Hopkins Bloomberg School of Public Health.
120 Senior Students in B.Sc Nursing along with their Faculty Members attended the seminar. Afterwards, Dr. Chowdhury, Supervisor of the aforesaid study, thoroughly presented the key findings, background and justifications of the research. He accompanied by Mr. Haque, then, opened-up a complete interactive question-answer session for the students; some of them have immediately shown their sheer interests to work with the DIU Faculty Members to enhance their research skills and to address their individual research problems.
The seminar team was led by Professor Dr. Harun of the Department of Public health, DIU a prominent researcher of the country, who pinpointed the context of the seminar, continuous contribution of nurses in health services, demonstrated the relevance of Master in Public Health (MPH) degree to the nurses profession and concluded his discussion with the expectations that the learning from the seminar will help the nursing students carry forward their understanding in their respective areas. .