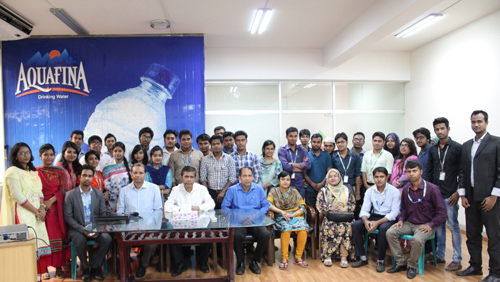 Students and faculty members along with distinguished high officials of Transcom Beverages Ltd. pose for a photograph during their Industrial Tour.
As a part of the course curriculum, students of the Department of Nutrition and Food Engineering, Daffodil International University made an industrial tour to Transcom Beverages Ltd to visit the beverages and drinking water plants of the Industry located at Gazipur, Dhaka on 20th May, 2017 under the supervision of Mr. Shafi Ahmed, Senior Lecturer, Department of Nutrition and Food Engineering. The goal of the trip was to enlighten students about the modern beverage processing technology. The team consisted of 35 students of the NFE department along with Dr. Md. Mahmudul Hasan, Asst. Professor and Ms. Effat Ara Jahan, lecturer. Mr. Murshedul Huda Sharifi, Administration Manager, Transcom beverage Ltd. facilitated the program also delivered very important speech.
The authority of Transcom Beverages Ltd was very much glad to entertain the team with variety of their special food items. In addition to that, the authority of this Industry has arranged a discussion session between students and higher management of the Industry. They also discussed to think about our students to provide jobs and internship opportunities in future. We wish to work together for the furtherance of our students in the upcoming days.