Distinguished guests at International HR Conference on "Career Bytes"
Department of Business Administration of Daffodil International University (DIU) organized an international HR Conference on "Career Bytes" on 4th& 5th December 2016 at its Permanent Campus, Ashulia, Saver, Dhaka. The conference was a great platform to bring HR experts, academicians and researchers together from home and abroad to exchange and share their knowledge, research outcomes and experience on HR and Career-related issues. The core objective was to develop and outshine the students and graduates of DIU by proper career guidelines. Simultaneously, there were two pre-conference workshop and seminar for the faculty members, executives and professionalsfrom different organizations.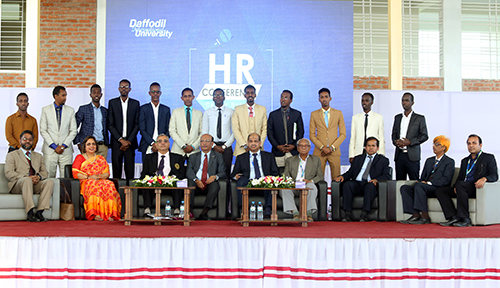 Foreign Students along with distinguished guests at the International HR Conference Career Bytes Employability First.
There were three speakers who spoke in three different sessions in the conference. The speakers were Prof Dr.Firdos Temurasp Shroff, Motivational Speaker & Director-Professor M. Visvesvaraya Institute of Management Studies & Research, Mumbai, India; Ms. Aparna Sharma, HR Expert, Mumbai, India Independent Director, Board of T.S Alloys Ltd and Mr. Md. Musharrof Hossain, HR Expert President, BSHRM Head of HRM, icddr,b.

Distinguished guests along with the participants in a photo session
Professor Dr. Yousuf M Islam, Honorable VC was present as chief guest where Professor Rafiqul Islam, Dean, Faculty of Business & Economics, Professor Dr. Mostafa Kamal, Director (Academic & Administrative), Permanent Campus, Professor Dr. Md. Fokhray Hossain, Director of International Affairs, conference speakers Prof DrFirdosTemurasp Shroff, Ms. Aparna Sharma, Mr. Md. Musharrof Hossain were present as special guests. Among others Professor Dr. Farid A. Sobhani, Convener, HR Conference on "Career Bytes" and Mohammed Masum Iqbal, Associate Professor & Head, Department of Business Administration were present in the conference.
About 1000 students participated in the conference at the Green Campus of DIU at Ashulia, Saver.