Fare Well Ceremony held at
Journalism and Mass Communication Department

Guests on the Dias with passing out students of JMC Department at the Far well ceremony

The Fare Well Ceremony of the students of 3rd, 4th and 5th Batch of the department of Journalism and Mass Communication was held 0n August 01, 2011 at DIU Auditorium. Professor Dr. M. Lutfar Rahman, Vice Chancellor, Daffodil International University was present on the occasion as the chief guest while Founder Vice Chancellor and Emeritus Professor Dr. Aminul Islam was present as the guest of Honour. Presided over by Ms. Quamrun Nahar, Lecturer of JMC Department the function was also addressed by Ms. Ameena Islam, Head, Department of JMC, Ms. Farhana Urmee, Lecturer and Mr. Muhammed Rashedul Hassan, Lecturer of the department. The whole program was conducted by Zul Haque – a student of 4th Batch.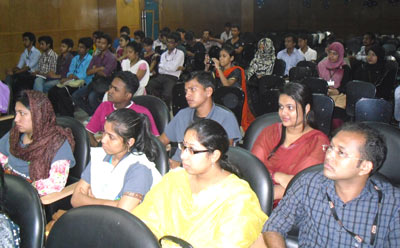 A partial view of the Audience
Later the students hold an informal open discussion session and cultural performance where Prof. Dr. M. Golam Rahman, Dean, Faculty of Humanities and Social Science and all the faculty members were present.