Seminar and workshop on Project and Dissertation held at DIU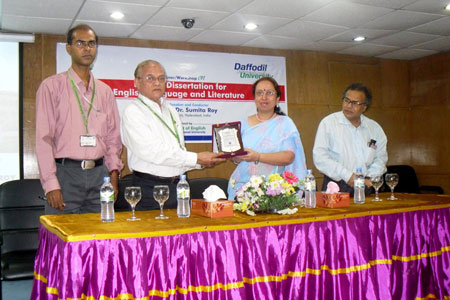 Vice Chancellor Prof. Dr. M. Lutfar Rahman of DIU is handing over a crest to Professor Dr. Sumita Roy, professor of English, Osmania University, Hyderabad, India.
A seminar-cum-workshop was held on "Project and Dissertation for English Language and Literature" on 24th July 2011 at the auditorium of Daffodil International University (DIU) in Dhaka. Department of English of DIU organized the seminar. Professor Dr. Sumita Roy, a renowned professor of English from Osmania University, Hyderabad, India, presented keynote speech in the seminar and conducted the workshop.
The daylong program was inaugurated by Professor Dr. M. Lutfar Rahman, Vice Chancellor of the university. Among others, Dr. Binoy Barman, Head of English Department and Dr. Sushil Kumar Das, Professor in English and former Dean of the Faculty of Humanities and Social Science, addressed the occasion. The seminar was attended by the faculty members and the students of the Department of English. Professor Roy elaborated on the workings of projects and dissertations, two important components in acquiring higher education. The necessity, procedures, implementation and other important aspects of project and dissertation writing were discussed in the seminar. In the afternoon a workshop was held. It consisted of practical tasks, where several groups of students were given topics to conduct 'demo' research on their own and the session ended with the conductor's valuable feedback on their presentations.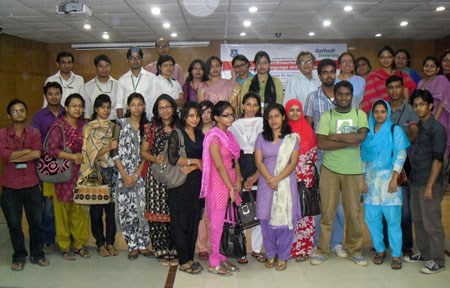 Participants of the Seminar cum- Workshop with the guests