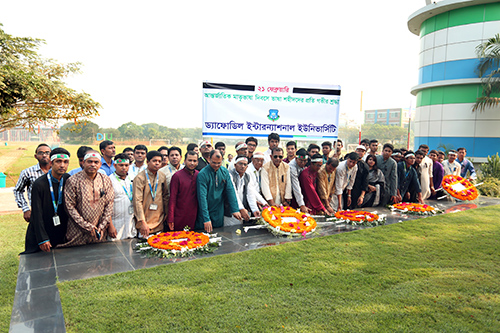 Prof.Rafiqul Islam, Dean, Faculty of Business and Economics on behalf of Vice Cahcellor and Librarian Dr. Md. Milan Khan on behalf of Board of Trustees placing Floral Wreaths at Central Shahid Minar of Daffodil International University at Ashulia Permanent Campus to pay tribute to the martyrs of Language movement.
With great enthusiasm and due respect, Daffodil International University (DIU) observed 21st February the 'Shahid Dibash' and 'International Mother Language Day' and paid tribute to the martyrs of the language movement. To mark the day, Daffodil International University chalked out elaborate program including seminar on "Inclusive Education through and with language- language matters", discussion, Photo Exhibition, Cultural program and rally followed by placing floral wreaths to Central Shaheed Minar at permanent campus of the university at Ashulia.
Early in the morning the students, teachers and officers of the university brought out a rally from the academic building and gathered to Central Sheed Minar and placed floral wreaths at the Shahid Minar consequently in favour of Board of Trustees, Vice Chancellor, Faculty Members, students and administration lead by Prof. Rafiqul Islam, Dean, Faculty of Business and Economics of the university and paid tribute to the martyrs of historic Language movement who sacrificed their lives for the recognition of Bangla as one of the state language of erstwhile Pakistan in 1952.
The rally was also attended by Dr. Md. Milan Khan, Librarian, Dr. Binoy Barman, Director, Daffodil Institute of Language, Mr. Anil Chandra Paul, Director (Uttara Campus), Dr. A B M Kamal Pasha, Head, Department of ESDM, Mr. Ashraful Islam, Special Assistant to Chairman, BoT, Dr. Harun Or Rashid, Deputy Director, Mr. Aktabul Alam, Senior Assistant Controller (Exam), Mr. Abdur Rumman, Senior Assistant Registrar, Mr. Anowar Habib Kazal, Senior Assistant Director ( PR), Mr. Kazi Md. Diljeb Kabir and other high Officials of the university.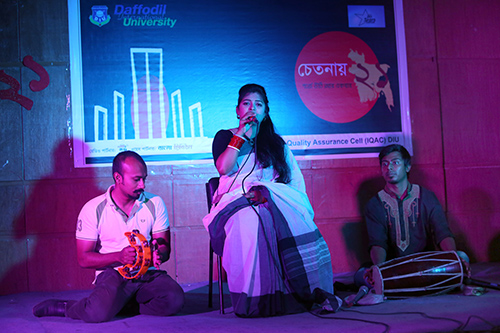 Members of All Star Daffodil performing music
Beside this, to mark the day All Star Daffodil – a student organization of the university chalked out elaborate program including Rally, Recitation, Flash Mob, Choreographic Dance, Tribal Dance and Drama based on language movement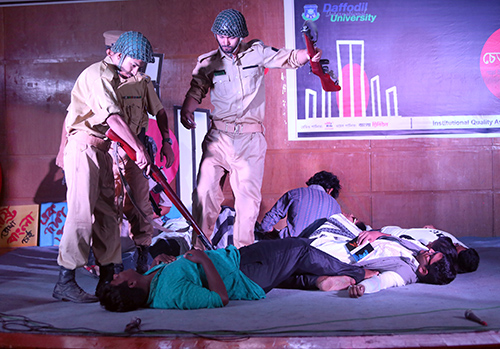 A sequence of Drama staged by All Stars Daffodil