DIU Organized
Inter University Debate Competition to mark
"World Anti Drug Day-2011"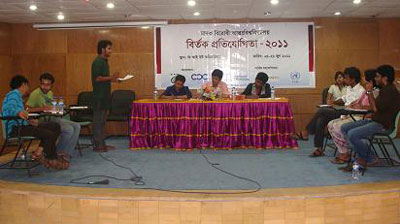 Daffodil International University Debate Club (DIUDC) and Career Development Center (CDC) jointly organized Inter University Debate Competition to mark "World Anti Drug Day-2011" at DIU Auditorium. Prof. M. Shahjahan Mina, Advisor to the Chairman, Board of Trustees, Daffodil International University inaugurated the competition as the chief guest.
Eight public and Private Universities participated in the debate Competition. Participating Universities are Dhaka University, Jahangirnagar University, East West University, BRAC University, Stamford University, Green University, Eastern University and host Daffodil International University.
Daffodil International University in collaboration with United Nations Information Center (UNIC) and Management & Resources Development initiatives (MRDI) is organizing this Debate competition to mark the World Anti Drug Day -2011.
DIU Debating Club always initiates programs to mark the different national and international remarkable days and as part of its continuation they took this endeavor. Through this debate DIU Debate Club come forward to bring the disadvantages of Drug abuses and the way to overcome these solutions to the young generations.