Career grooming session on
"Building career in Bangladesh Armed forces" in DIU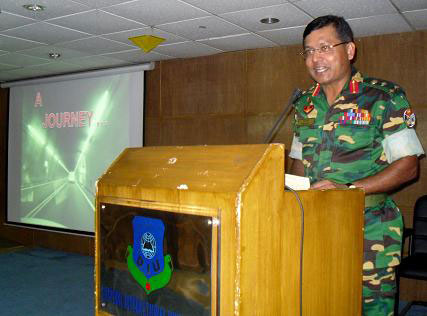 A career grooming session on "Building career in Bangladesh Armed forces" for the students of Daffodil International College and Daffodil International University (DIU) was arranged on 9th June 2011 at DIU Auditorium. Career Development Center (CDC), DIU organized the session for exploring job opportunity with Bangladesh Army to motivate young bloods to join armed forces that is ready to sacrifice him/her for their motherland.
Brigadier General Mirza Baker Sarwar Ahmed (NDC, PSC) the President of ISSB was present on the session as the Chief Guest. Mr. Md. Sabur Khan, Chairman, Board of Trustees, DIU, Prof. Dr. M. Lutfar Rahman, Vice Chancellor, Prof. Dr. Md. Mizanur Rahman, Dean, Faculty of Business and Economics, Prof. Dr. Golam Mawola Choudhury, Proctor & Head, ETE, Professor Dr. Syed Akter Hossain, Head, CSE, Mr. Syed Mizanur Rahman, Coordinator, CDC were also present in the session.
Brigadier General Mirza Baker Sarwar Ahmed the President of ISSB addressing among the students said "To protect the sovereignty of the nation there is no other way other than having strong armed forces." To have strong armed forces we need good leaders as their officers. ISSB is to select officers for armed forces from the young volunteers, he added. He urged the students to uphold the sprit of patriotism and come forward to join in Bangladesh Armed forces.
The students join the interactive discussion and FAQ session with the President, ISSB shared the extensive knowledge from number of UN missions including enormous traveling history around the world.