Seminar on
"Tobacco Control Act and Bangladesh"
held at DIU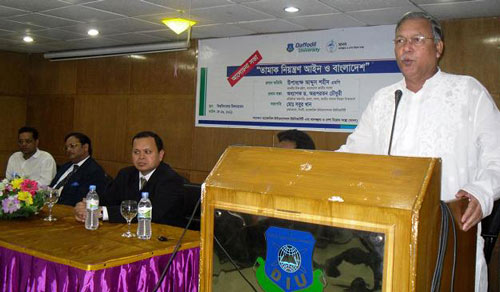 Chief Whip of National Parliament Md. Abdus Shahid said , It is only possible to make success the anti tobacco movement through raising our values and creating social awareness participating by all walks of people united. In this regards young society and students can play the vital role. He said these while addressing as the chief guest in the seminar on "Tobacco Control Act and Bangladesh" jointly organized by Daffodil International University (DIU) and Association for Prevention of Drug Abuse (MANAS) in observance of `World Tobacco Free Day'-2011at DIU Auditorium.
He also said, healthy life is the pre requisite to lead a happy life. To keep us healthy we must give up smoking. We must explore our values to form a tobacco free society. Being informed that Daffodil International University a tobacco free university he welcome the management and urged the students to come forward to create awareness among all walks of people in anti tobacco movement utilizing our conscious and motivational approach to create a tobacco free society.
Presided over by Md. Sabur Khan, Chairman, Board of Trustees of Daffodil International University Professor Dr. Arup Ratan Choudhury Founder President of Association for Prevention of Drug Abuse (MANAS) and Member of National Task Force on Tobacco Control presented the keynote paper in the seminar.
The seminar was also addressed by Prof. Dr. Mizanur Rahman, Dean, Faculty of Business and Economics, DIU, Joint Secretary of MANAS and country's renowned artist Ferdous Wahid, Motiur Rahman Taluikder, Organizing Secretary of Association for Prevention of Drug Abuse (MANAS) and Syed Mizanur Rahman, Coordinator, Career Development Center of DIU.
Tobacco Control Act and Bangladesh broadcast in different TV Channel
TV News at BTV
http://www.youtube.com/watch?v=SPyLDv1eD5M
TV News at DTV
http://www.youtube.com/watch?v=W0VP4W1JHtk
TV News at RTV
http://www.youtube.com/watch?v=hvvr0olLXmY
TV News at Shomoy TV
http://www.youtube.com/watch?v=qIVEpzAUbuY