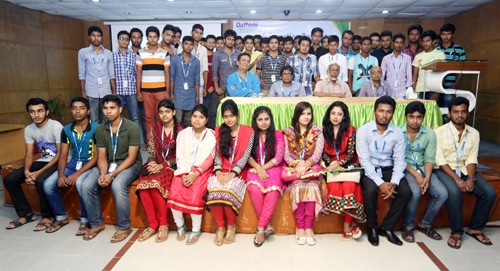 The fresher's along with distinguished guests at the Orientation program
The orientation program for the newly enrolled undergraduate students of Summer-2015 semester of the Department of Textile Engineering (TE) of Daffodil International University (DIU) was held on June 9, 2015 at DIU Auditorium.
The orientation program was presided over by Professor Dr. Md. Mahbubul Haque, Head of the Department of Textile Engineering (TE), the orientation program was addressed by Professor Dr. S.M. Mahbub-Ul-Haque Majumder, Dean, Faculty of Science and Information Technology, Professor Dr. M. Shamsul Alam, Dean, Faculty of Engineering, Professor Dr. Md. Golam Mowla Choudhury, Controller of Examination and Proctor, Mr. Syed Mizanur Rahman, Director (Student Affairs), Mr. Md. Azharul Islam, Senior lecturer, Department of Textile Engineering and Mustafa Anowar, Student from the Department of Textile Engineering of DIU.
While addressing among the fresher's, the speakers encouraged the newly admitted students to be more attentive and regular in the classes so that they can contribute very efficiently to the society and country and also discussed about the history of Textile Engineering department at Daffodil International University and its prospects as well. They also motivated students to be more ethical and moral as they grow up and DIU will help them to be a decent human being.
They also highlighted the prospects of RMG and the Textile sector's recent scenario of Bangladesh. It was also demonstrated that all the courses of DIU Textile Engineering are equally important for becoming a successful Textile Engineer. He informed the fresher's that the Ex-Textile Engineers of DIU are doing very well in textile sectors and the job placement of fresh graduates is excellent.
The program was conducted by Alvi Tabassum Binte Taher, 2nd semester student of Textile Engineering department of Daffodil International University.