A team of fifteen members from DIU Social Business Students Forum (DIU SBSF) attended a workshop on Short Demonstration to Make Quality Products with Soy Flour at Dhaka Polytechnic Institute Tejgaon Dhaka on February 26, 2014. The workshop was organized by Centre of Excellence Agro Food Skills (CEAFS) Foundation. Mr. Alan F.Poock, Program Manager American Soybean Association (ASA) and Mr. Kirk O' Donnell, Director, International Banking Training (AIB) were conducted the workshop. The workshop presided over by Mr. Shafiqur Rahman Bhuiyan, Chairman of CEAFA.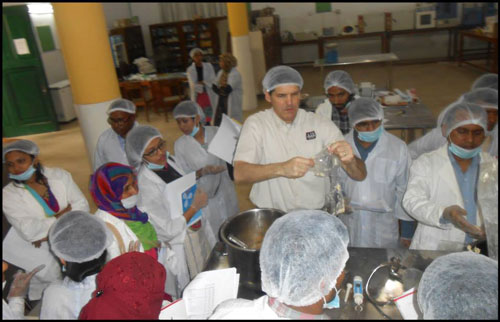 In morning session the team introduced the food and market value of soy products. After the workshop session the team attended a short training on producing soya cake, soya cookie and soya bread at Chemistry Lab. Mr. Kirk O' Donnell conducted the entire training session.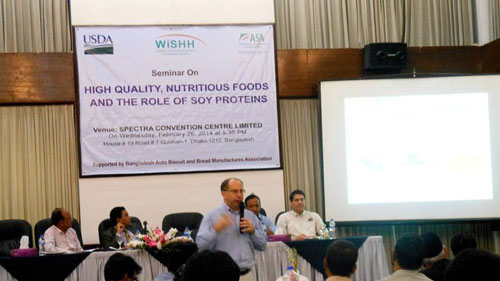 On the night, DIU team participated another Seminar on High Quality Nutritious food and the role of soy proteins at Spectra Convention Centre Limited in Gulshan Dhaka. The program was supported by Bangladesh Auto Biscuit & Bread Manufacturers Association. After the Seminar the team took part in a corporate Dinner.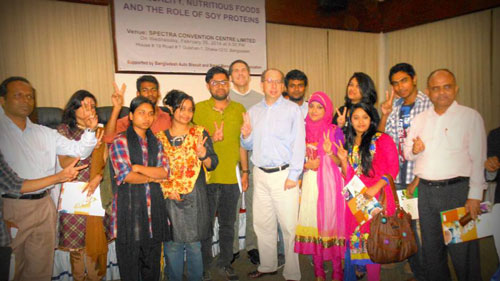 The DIU team was combined of students from BBA, NFE and SWE.