Daffodil International University team `DIU_Primitive' ranked top among all private universities of Bangladesh in ACM (Association for Computing Machinery) International Collegiate Programming Contest Dhaka Regional 2013, held at North South University on December 06, 2013. 110 teams from 58 universities took part in the creative competition. `DIU_Primitive' solved 6 problems out of 11 in 5 hours long contest.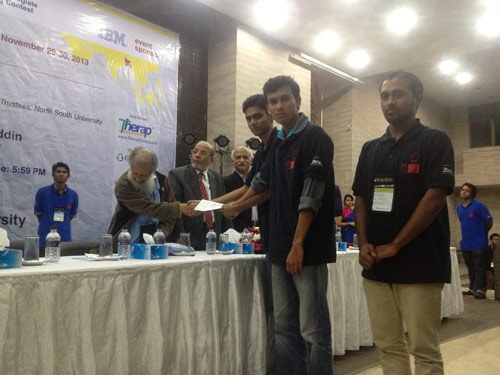 Members of DIU Primitive team receiving awards at ACM-ICPC 2013
DIU_Primitive Members:
133-15-2867 Mohammad Samiul Islam
101-15-897 Sharif Ahmad
113-15-1566 Shuvo Karmakar
Coaches of the team was Rifayet Samee and supports by Riazur Rahman of the CSE department.
DIU_Primitive received university ranking 5 and independent ranking 8. The champion team solved 7 problems from SUST and BUET.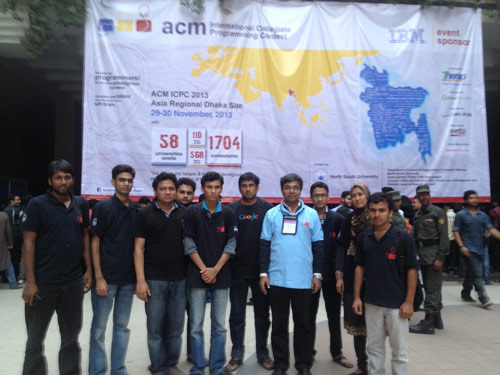 Participating team members of Daffodil International University at ACM-ICPC 2013 along with Professor Dr. Syed Akter Hossain, Head, CSE and Coaches in a photo session
Mr. Ragib Ali, Chairman, Board of Trustees of North South University was present as the chief guest in the closing and award giving ceremony and handed over crest among the winners.
Professor Dr. Syed Akter Hossain, Head, Department of Computer Science and Engineering expressed his heartiest congratulations to winners and thanked coaches and supporting teams.