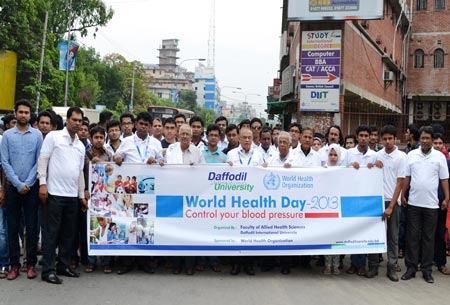 One third of the adult population of the country suffers from high blood pressure. High blood pressure is a silent killer and it causes stroke, cardiac attack, kidney failure and many other diseases. Speakers said this at the seminar held at DIU Auditorium. They also said that hypertension is both preventable and treatable. The speakers mentioned that smoking, use of tobacco in various ways, absence of Physical labour, excessive drinking, ageing, obesity, long term kidney disease, excessive intake of salt, mental pressure and taking of excessive animal proteins are the reasons of high blood pressure. By taking balanced diet it could be controlled.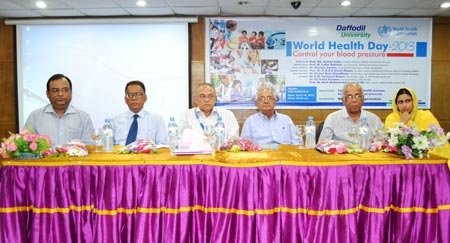 Daffodil International University in collaboration with World Health Organization (WHO) brought out a rally and organized the seminar on " Control your blood pressure" today on April 18, 2013 in observed World health Day -2013. To mark the day students, teachers and officials brought out a colorful rally from the main campus of the university early in the morning. Prof. Dr. M. Lutfar Rahman, Vice Chancellor, Dr. Aminul Islam, Professor Emeritus, Professor Dr. Shah Mohammad Keramot Ali, Dean, Faculty of Allied Health Sciences of Daffodil International University lead the rally. The rally surrounded the main roads of the capital and ended at Sobhanbag Campus.

After the rally a seminar titled `Control your blood pressure' in observance of " World Health Day-2013" was organized at DIU Auditorium by World Health Organization ( WHO) and Faculty of Allied Health Sciences of daffodil International University.
Prof. Dr. Aminul Islam, Founder Vice Chancellor and Professor Emeritus, Daffodil International University was present as the chief guest in the seminar while Prof. Dr. K.M.H.S. Sirajul Haque, Ex Dean, Faculty of Medicine & Chairman, Department of Cardiology, BSMMU presented the keynote paper. Professor Dr. M. Lutfar Rahman, Vice Chancellor, Daffodil International University presided over the seminar. Dr. Mostafa Zaman, World Health Organization, Dhaka, Bangladesh was present as the Guest of Honor in the seminar.
The Speakers of the seminar were:
Dr. Shohel Reza Chowdhury, Associate Professor, Department of Epidemiology & Research, National Heart Foundation of Bangladesh
Dr. K.M. Formuzul Haque, Professor & Head, Dept. of NFE & Public Health, DIU
Dr. Md. Bellal Hopssain, Assistant Professor, NFE/PH, DIU
Md. Moniruzzaman, Lecturer, Department of Pharmacy, DIU
Prof. Dr. Shah Mohammad Keramot Ali, Dean, Faculty of Allied Health Sciences.