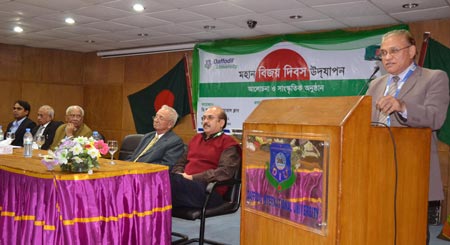 Daffodil International University paid its debt of gratitude to the national heroes who laid down their lives for this noblest of the causes the Bangladesh have cherished placing wreaths at the National Memorial at Savar to celebrate 41st Victory Day. Daffodil International University Cultural Club organized a discussion meeting and gala cultural program on Decemeber 17, 2012 at DIU Auditorium. Vice Chancellor Prof. Dr. M.Lutfar Rahman was present on the occasion as the chief guest while Emeritus Professor Dr. Aminul Islam was the main speaker. Presided over by Bimol Chandra Das, Convener of DIU Cultural Club the function was also addressed by Prof. Dr. Rafiqul Islam, Dean, Faculty of Business and Economics, Prof. Dr. M. Golam Rahman, Dean, Faculty of Humanities and Social Science, Prof. Dr. Zakir Hossain, Director (Studies), Syed Mizanur Rahman Raju, Director (Student Affairs). The program was conducted by Tasnia Tajrin Setu and Sabbir Hossain.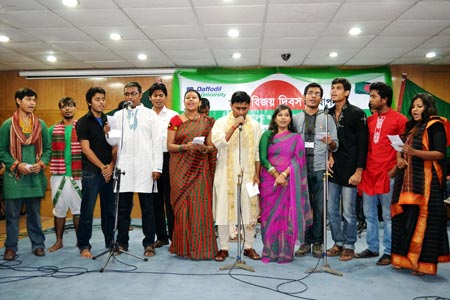 Addressing as the chief guest Vice Chancellor Prof. Dr. M. Lutfar Rahman said, We achieved our long-cherished victory through nine month long War of Liberation at the cost of supreme sacrifice of the valiant freedom fighters.
He urged the students to come forward to contribute for building self reliant "Golden Bangladesh" from their respective positions beside education and uphold the objectives and spirit of the Liberation War.
Emeritus Professor Dr. Aminul Islam while delivering the main speech point out the back ground of our Liberation War from 1947 to 1971 and role of our country men. He hoped that only youths can play the vital role to build technology oriented and knowledge-based society which will help to form a rich and prosperous Bangladesh in coming days.
The discussion program was followed by a gala cultural program including Recitation, songs, one act drama and dance. Prof. Dr. Rafiqul Islam, Dean, Faculty of Business and Economics recited Shamsur Rahaman's poem " Tomake Paoar Jonno hey Shawdhinata. Mr. Mahabub Parvez, Assistant Professor,recited Asim Saha's poem " Prithibir Sobchaye Mormaghati Raktapat". Mirza Golam Rashed-Assistant Professor, Anuj Kumar Chakrabarty- Lecturer, Club President Shibli, Suraya Alam Rini, Abdullah rendered songs. Nafisa Rahman Mou and Pankaj Das performed dances while Zerin Nasrin Tumpa performed a one act play based on Liberation War which drew the attention of the audience mostly.