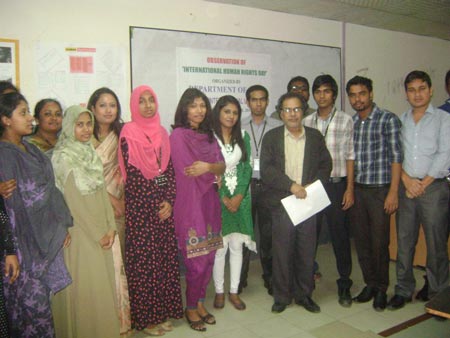 Prof.Shusil Kumar Das, Acting Dean of FHSS OF Daffodil International University with participants of Podter Exhibition
Department of Law of Daffodil International University observed International Human Rights Day 10th December, 2012 by colourful poster presentation with a short discussion on human rights situation in Bangladesh.
Four groups of students presented posters on Human trafficking, Extra-judicial killings-cross fire, Misuse of arrest and detention laws by Police and Human Rights violation in Bangladesh under Universal Declaration of Human Rights, 1948. Professor Sushil K. Das , Acting Dean, Faculty of Humanities and Social Science inaugurated the poster Exhibition and addressed the discussion program as as Chief guest.The program was conducted by Mirza Farzana Iqbal Chowdhury, Lecturer, Department of Law. Later Professor Sushil K. Das visited the exhibition hall . 14 poster took place in the exhibition.