The most prestigious Asia Regional Dhaka Site computing event Association for Computing Machineries - International Collegiate Programming Contest 2012 (ACM-ICPC 2012) held today at Radisson Blu Water Garden Hotel. This is the biggest programming contest for the first time in the history of Bangladesh hosted by Daffodil International University. 150 teams from 64 public and private universities participated in this event. Beside this 3 teams of which 2 from China and one from India also took part in this event.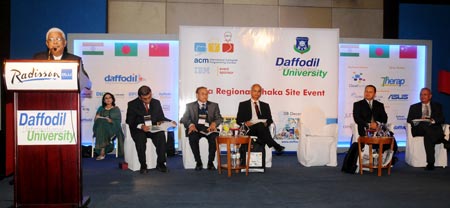 Best three regional contest winners will get tickets to World Finals 2013 which will be hosted by Saint Petersburg in Russia from June 30-July 04, 2013 to join the battle of the brain.
ACM-ICPC contest involves a global network of universities hosting regional competitions that advance teams to the ACM-ICPC World Finals. This year Daffodil International University has taken an international approach to host the 16th ACM-ICPC Dhaka Regional 2012 programming contest.
In the 16th ACM-ICPC Dhaka Regional 2012 programming contest. Shanghai Jiao Tong University, China became Champion and BUET from Bangladesh became Runner UP. Third position went to Fudan University, China. The members of the Champion team are Shang Jingbo, Jin Bin, and GUO Xiaooxu and members of the Runner up BUET team are Mohammad Hafiz Uddin, Mohammad Nazmul Hasan & Prosanjit Barua.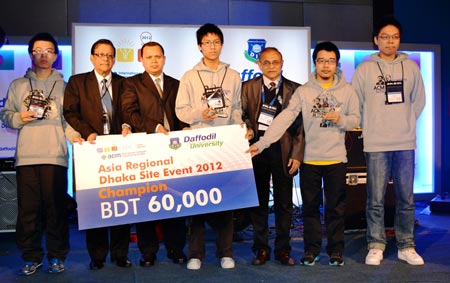 Mr. Mostafa Faruque Mohammed, MP, Honorable Minister, Ministry of Information and Communication Technology, Government of the People's Republic of Bangladesh inaugurated ACM-ICPC 2012 as the chief guest. The function was addressed by Mr. Nazrul Islam Khan, Secretary, Ministry of ICT, Mr. Md. Sabur Khan, Chairman, BOT, Daffodil International University, Prof. Dr. M. Lutfar Rahman, Vice Chancellor and Prof. Dr. Syed Akter Hossain, Contest Director. Prof. Dr. M. Kaikobad (BUET) and Mr. Shariar Manjur, Judging Director were also present at the inaugural ceremony.
The contest was started at 10.00am and continued till 3.00pm uninterruptedly. Mr. Shahriar Manzoor of Southeast University along with Md Mahmudur Rahman of Mukto Soft managed the contest judging system. Professor M. Kaykobad of BUET and Prof Abul L. Haque of NSU were engaged in the organizing committee of the ACM-ICPC Dhaka 2012.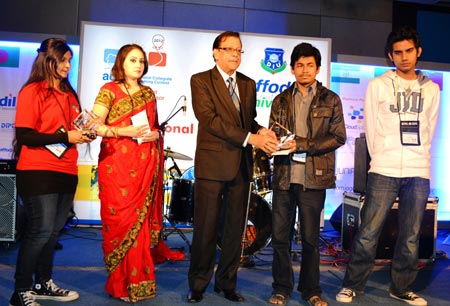 ACM-ICPC Dhaka Regional 2012 was a full pack festival of computing, fun events, technical talks, cloud computing events, recruitment fair and project showcasing. There was a grand presence of all partners supporting directly and indirectly at the Utshab Pre-functional area of Radisson Blu.
Soon after the contests begin, there were TechTalk sessions at Utshab Hall along with the display of the contest scoreboard. In this series of technical talks, Tahseen Mohammad,CTO of Therap (BD) gave a talk on Java Web Application Framework, another talk on Help the Students to be better programmer for the coaches was delivered by a world finalist Tamim Shahriar, Career in 21st Century: Bangladesh Context by Syed Mizanur Rahman from Career Development Center (CDC) of Daffodil International University and another technical talk from GPIT and the new technology talk from CloudSpokes.com on Developing Application on Force.com & Heroku Platform was delivered by the Solution Architect Das Nobel. There were many other technical discussion on sharing best practices for the programming contest during the time of contest in Utshab hall.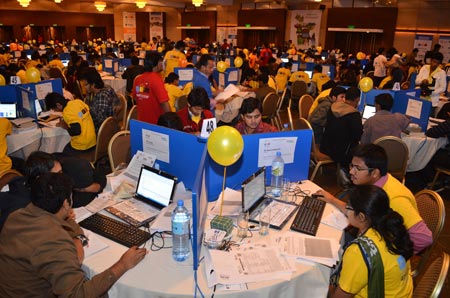 Mr. Hasanul Haq Inu, MP, Honorable Minister, Ministry of Information was the chief guest and distributed prizes among the winners. at the Award Night of the ACM-ICPC 2012.Mr. Mr. Saber Hossain Chowdhury , MP, Mr. Aftab Ul Islam, FCA & President Am-Chem and Mr. Anisul Haque, Former President, FBCCI & SAARC CCCI were present as the special guests in the closing ceremony . Beside these, dignitaries from BASIS, BCS, ISPAB, BCC, DCCI, FBCCI, CTO Forum and other heads of ICT organizations were present.
The top 20 teams were awarded both the cash prizes and memento of the ACM-ICPC Dhaka Regional 2012 along with the certificate. The Champion team additionally received Champion Trophy of ACM-ICPC Dhaka 2012 for the first time in Bangladesh.
The Platinum partner CloudSpokes.com from USA presented Ambassador Program and fun events for the contestants. The Silver partner of the event was Therap (BD) Ltd., network partner Gazi Communications Ltd and hardware support partner was Global Barnd( Pvt. Ltd..