DIU pays tributes to Language Martyrs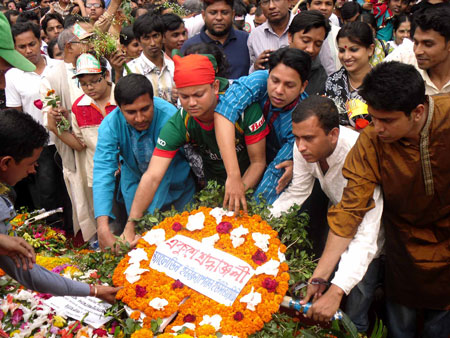 Daffodil International University (DIU) placed wreaths at Central Shahid Minar premises in observance of Amar Ekushey, also the International Mother Language Day in the sharp morning of 21st February 2011. The DIU team approached to the Shaheed Minar bare footed and placed at the dice of the monument amidst the crowd. With this place ment, DIU team also showed their tribute to the great souls who laid their lives during the vigorous activities of language movement.
The Language Movement catalysed the assertion of Bengali national identity in Pakistan, and became a forerunner to Bengali nationalist movements, including the Bangladesh Liberation War in 1971. In Bangladesh, 21 February is observed as Language Movement Day, a national holiday. The Shaheed Minar monument was constructed near Dhaka Medical College in memory of the movement and its victims.