Daffodil International University Social Business Cell
& Social Business Students Forum met with Dr. Muhammad Yunus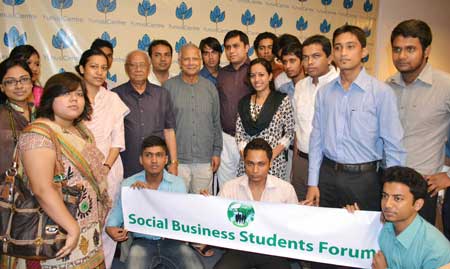 Members of Daffodil International University Social Business Cell and Social Business Students Forum with Nobel Laureate Professor Dr. Muhammad Yunus in a photo session at Yunus Centre after discussion session
The members of Daffodil International University Social Business Cell and Social Business Students Forum visited Yunus Centre on September 04, 2012 and had a meeting with Nobel Laureate Professor Dr. Muhammad Yunus. A total of 35 participants including 5 faculty members of DIU joined the meeting.
At the beginning the Nobel Laureate Professor Dr. Muhammad Yunus discussed with the students about the necessity and aspects of social business in the society. He appreciated the students of DIU to be captivated with the idea of social business and is actively working on it. He said if all the young people come forward in this way, a social change is possible. Later Mr. Masud Ibn Rahman presented the synopsis of the activities of the social business cell of DIU including senior faculty members' interest in starting social businesses. He mentioned that already a group of students in DIU started social business. Professor Rafiqul Islam, Dean, Faculty of Business and Economics, Mr. Md. Masum Iqbal, Head, BBA Program, Mr. Mohammed Sakhawat Hossain, Head, Dept. of Real Estate were also present during the visit.
At the end of the meeting the students along with faculty members visited the Nobel Piece Prize exhibition and the photo gallery in the ground floor of the Grameen Bank Center. This visit and the meeting with Professor Dr. Muhammad Yunus increased their motivation and enthusiasm regarding Social Business concept which will inspire them to work on it.