Daffodil International University Alumni Association (DIUAA)
hold get-together and Ifter Party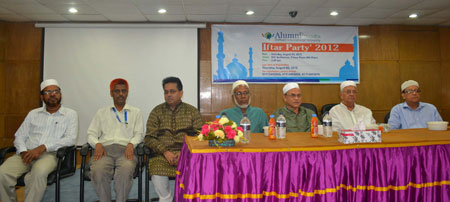 Prof. Dr. M. Lutfar Rahman, Vice Chancellor, Prof. Dr. Aminul Islam, Emeritus professor and other distinguished guests are seen at the half yearly get-together and Ifter Party
The Alumni Association of Daffodil International University (DIUAA) arranged a half yearly get-together and Ifter Party on August 11, 2012 at DIU Auditorium where members of the Association took part and exchanged their views about current activities of DIU Alumni Association. Professor Dr. M. Lutfar Rahman, Vice Chancellor, Daffodil International University was present as the Chief Guest and Emeritus Professor Dr. Aminul Islam was present as special guest.
Professor Dr. S.M. Mahbub-Ul-Haque Majumder , Dean, Faculty of Science and Information Technology, Professor Rafiqul Islam, Dean, Faculty of Business and Economics, Prof. Dr. Md. Golam Mowla Choudhury, Controller of Examinations, Dr. Md. Fokhray Hossain, Registrar, Mr. Mominul Haque Majumder, Director (Finance & Accounts) & Founder President DIUAA, Major (Rtd.) Khaled Saifullah, Head of Real Estate Services, Standard Chartered Bank & President, DIUAA and Mr. Manjurul Alam Jewel, Head of Human Resources, Eastern Bank Ltd & Secretary, DIUAA also spoke on the occasion. Major (Retd) Khaled Saifullah, President, Daffodil International University Alumni Association welcomed the guests and members. Before Ifter a prayer for the Muslim Ummah and the nation held.
DIU Alumni Association is dedicated to helping the students of DIU since its inception in 2007 and the worthy members in this association with special projects and activities. Moreover, all the alumni, being under one umbrella, are working with DIU to assist the university in getting the apex of quality higher learning. This Association is for making a Quality Cycle- where an entry could make a man polished, a real touchstone. Simultaneously, it is for making a garden where all the daffodils will outdo the odds and maladies of the society in glee.
Executive committee members of DIUAA along with general members and other guests from Daffodil International University attended at the get together program followed by Iftar Praty.