ELC Club Celebrate W. B. YEATS' BIRTH ANNIVERSARY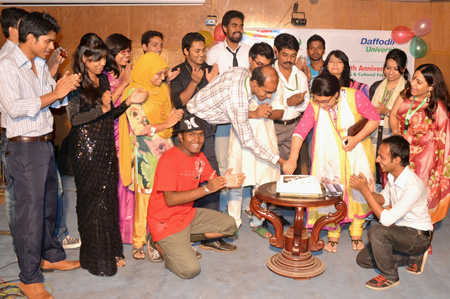 Students and Faculty members of ELC Club of Daffodil International University celebrating w.b.yEATS 147th Day through Cake Cutting
Daffodil International University English Literary Club (ELC) has celebrated W. B. Yeats' 147th Birth Anniversary on 13th June 2012, by arranging a colorful and gorgeous celebration program at DIU auditorium.

At the very beginning of the exclusive occasion Dr. Binoy Barman (Head of Eng Dept.) introduced everyone with the legendary poet's life and friendship with Rabindranath Tagore. Nahid Kaiser (lecturer) recited a poem of Yeats' excellently.

After that the formal celebration of Yeats' Birthday started by cutting a wonderful cake along with the students and faculty members. A recitation competition started after the formal celebration. The participants recited some of the legendary poems of Yeats'. Shamsi Ara Huda declared the name of the winners , where Tamanna Sharker has got the first prize. The most exclusive cultural program started with hilarious anchoring of Eiten , Raihan & sunny. This show contains- short drama, fun segment, ramp show, singing, dancing, fun mimic and so on. The tribal dance was one of the most accepted sights of the show. The chromatic Show goes on with a great response of the students.

At the middle of the program Madam Umme Kulsum, who has worked successfully as the co-ordinate of ELC from 2009-2012, delivered speech about the ELC members and their co-operations. She said that ELC members have raised the club as a slandered one with their enormous courage's. Emirates Professor Dr. M. Aminul Islam Handed over 'certificate of Excellence' to Irin sultana, Sayed Amim, Ehata Sham-Ul-Hoque Eiten for their contribution in ELC. And also a proposed committee was declared, where Syed Raihan- Ul-Islam will work as the new president & Masud Pervej Mithu will worked as Secretary with other members of ELC under the new co-ordinator Nahid Kaiser.

At the end of the colorful show there were refreshments for everyone. Everyone was delighted with the joy of enjoyment. ELC is very much delighted with the great response of the students. ELC always try their best to arrange this kind of show for the enjoyment of the students & build bridge with culture.