The 113rd Birth Anniversary of Nazrul observed at Daffodil International University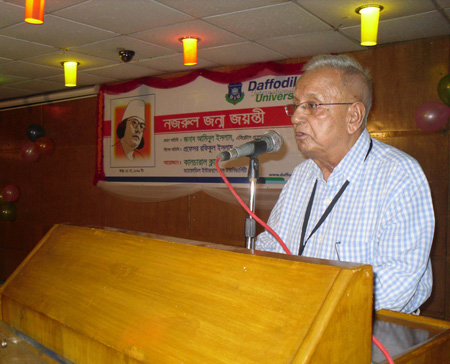 Founder Vice Chancellor and Emeritus Professor Dr. Aminul Islam addresssing as the chief guest at the program of 113rd Birth Anniverdary of National poet Kazi Nazrul Islam observed at Daffodil Univer
Daffodil International University observed 113rd Birth Anniversary of National Poet Kazi Nazrul Islam through a colorful program today held at DIU Auditorium. DIU Cultural Club chalked out elaborate programs to mark the Nazrul's Jonma Joyonti hosting discussion session followed by a gala cultural event.
Dr. Aminul Islam, Emeritus Professor and Founder Vice Chancellor of Daffodil International University was present on the occasion as the chief guest. Presided over by Prof. Dr. M. Lutfar Rahman, Vice Chancellor, DIU, Professor Rafiqul Islam, Dean, Faculty of Business and Economics was present as special guest.The duncttion was also addressed by Mirza Golam Rashed, Moderator, DIU Cultural Club.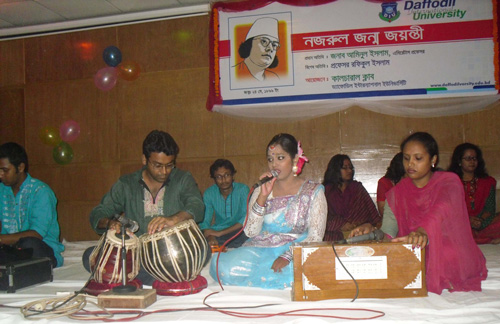 Students are rendering a Nazrul Sangeet at the program of 113rd Birth Anniversary observed at Daffodil International University
Addressing as the chief guest Dr. Aminul Islam said, Kazi Nazrul Islam was a poet of equality and secularism. His writings still inspire people to protest against social depravity and repression, he added. He also said that Nazrul had given Bengali poetry a direction, portraying the pain and sorrows of the downtrodden. He termed the poem," Bidrohi" as an immortal creation that still evokes the sprit of protest in Bengali hearts.
The cultural programme featured recitation by the leading recites of Bangladesh Nazrul Abrittee Parishad including Ms. Tanjina Akteri Mousumi, Farah Binte Bashir, Jahirul Islam Miraj and Atondrila Ahmed. Nazrul sangeet was performed by Shakot Majumder, Onuj Kumar, Tumpa, Rini, Asif, Rashed. Rini and Nipu performed dance while Nirjhor Ashik, Mahadi and Jafar perfomed in Drama.
The program was conducted by DIU Cultural Club President Sbbir Hossain and program organizer Tajnia Tajrin Setu.