CSE Department of DIU celebrated New Year -2011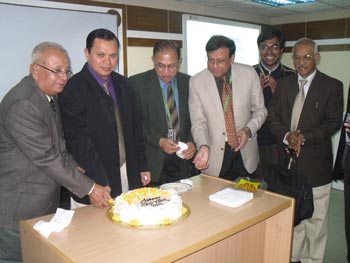 Department of Computer Science & Engineering of Daffodil International University decided to observe the year 2011 as the digital year.
To celebrate the New Year 2011 the Department of Computer Science & Engineering organized a celebration program through cutting cake. Mr. Md. Sabur Khan, Chairman, Board of Governors, was present as the Chief Guest. Vice Chancellor Prof. Dr. Aminul Islam was present as the special guest. The function was also addressed by Prof. Dr. Lutfar Rahman, Dean, Faculty of Science & ICT, Prof. Dr. S.M.Mahbubul Haque Majumder, Controller of Exam, Dr. Md. Fokhray Hossain, Registrar and Prof. Dr. Syed Akter Hossain, Head Department of CSE.Please find attached the pictures.