ELC Listening Competition held at DIU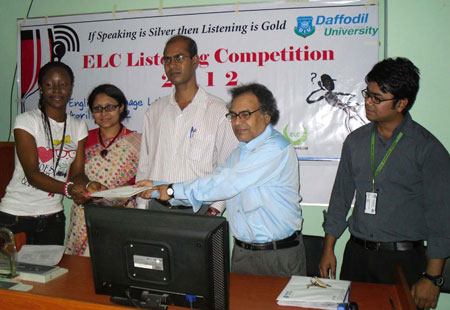 To help students recognize the importance of effective listening skills and to identify the problems they may have in effective listening "ELC Listening Competition" was held in the Digital English Language Lab (DELL) of Daffodil International University on 1st April, 2012. Prof. Dr. Shushil Kumar Das, Dean (In-Charge) FHSS, and Dr. Binoy Barman, Head of the English Department, DIU were present at the competition and handed over the prizes to the winners. Ms. Shamsi Ara Huda and Ms. Sushmita Rani, faculty members of the English Department, were in the judging panel. This competition was coordinated by Mr. Swapan Kumar Bhowmik, Lecturer of English Department, DIU, and supervised by Ms. Umme Kulsum, Senior Lecturer of English Department and co-coordinator of ELC.
Thirty-two students from several departments participated in the competition after attending a workshop on listening. Tanvir Alam of BBA, Ebede Chioma Esther of LLB and Md. Raiful Islam Khan Sajib of English won first, second and third prizes respectively.
This contest was designed to provide a challenging format to test the improvement of their listening abilities.