Seminar on "New Media, Blogging and Social Responsibility"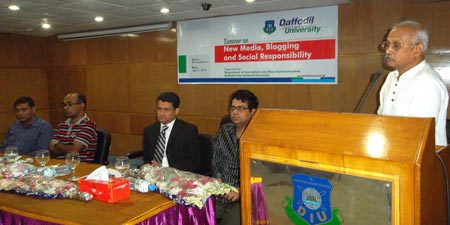 The popularity of social media is increasing tremendously day by day in our country and sometimes plays a vital and more effective role like mainstream media, but lack of effective cyber law the abuse of social media couldn't be controlled - speakers said at a seminar in the capital.
The Department of Journalism and Mass Communication of Daffodil International University (DIU) organized the Seminar on "New Media, Blogging and Social Responsibility" at DIU Auditorium today April 09, 2012.
Dr. Fahmidul Haq, Associate Professor, Department of Mass Communication and Journalism, University of Dhaka presented the keynote paper in the seminar. Prof. Dr. M. Golam Rahman, Dean, Faculty of Humanities and Social Science, Daffodil International University presided over the program.The seminar was also addressed by Mr. Shawkat Hossain Masum, News Editor, Daily Prothom-Alo, Barrister Tanjib-ul Alam, Advocate, Supreme Court of Bangladesh and renowned blogger of the country Mr. Razib Ahmed.
Dr. Fahmidul Haq in his keynote presentation said, Now the social media is more effective and popular all over the world. Social media creates social relation, gives entertainment and provide latest information for us. Now social media plays a vital role to make public support and civil journalism also. He pointed out sets of examples created by social media. Now, Social Media crossed the area of global limitation. He added, in Bangladesh now blogging and facebook.com is a popular social media. Some time government and the businessman try to control social media, but it would be harmful like other country of World. He urged the students to use blog because people of our neighboring countries earn billon of dollar and it is also possible for Bangladeshi young to earn billion dollars.