Daffodil Group celebrated Pahela Boishakh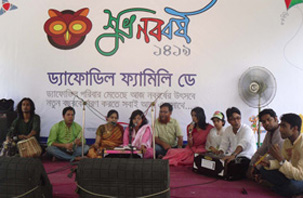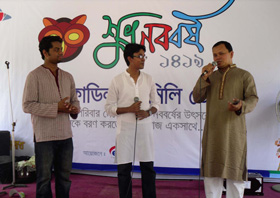 Employees of Daffodil Group celebrated Pahela Boishakh, the first day of Bangla New Year 1419, amid traditional fervour, much fanfare and festivities on Saturday at Banani Society ground through a day long program. All level of employees of Daffodil Group with their family members joined the celebrations, leaving behind all gloom and despondency of the past. The day long program included boishakhi fair, Circus, Bioscope, Baul song, Dall's Dance, folk song, Nagor Dola and many others.
Md. Sabur Khan, Chairman, Daffodil Group, Prof. Dr. M. Lutfar Rahamn, Vice Chancellor, Dr. Aminul Islam, Emeritus Professor, Professor Rafiqul Islam, Dean, Faculty of Business and Economics, Prof. Dr. Golam Rehman, Dean, Faculty of Humanities and Social Science, Dr. Md. Fokhray Hossain, Mominul Haque Majumder, Emran Hossain, Deputy Registrar, Heads of different department, high officials of Daffodil International University, Zamshedur Rahman, Principal, Daffodil International College, Md. Nuruzzaman, Executive Director, Daffodil Institute of IT, K.M. Hassan Ripon, Director, BSDI and other high officials of Daffodil Group and their family members joined the program and enjoyed the day in a festive mood. Wearing traditional Boishakhi clothes, mostly sari and panjabi, the children enjoyed the day as the whole ground turned into a gathering place with its age-old tradition.